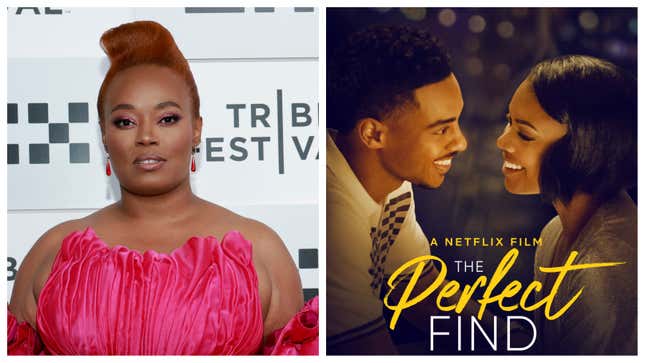 Forget about having a hot girl summer. In the newest Netflix original film The Perfect Find, it's all about having a romantic, certified lover girl summer.
Amazon Prime Video's Harlem Star, Meagan Good, Plays That's So Random
Don't believe me? You will after indulging in this super-fashionable, modern romcom directed by Numa Perrier. In the film, Gabrielle Union stars as Jenna who, after a high-profile firing, hits a snag in her fashion career comeback after she falls for her charming, much younger coworker (played Keith Powers)—who also happens to be her boss's son. As sparks fly, Jenna must decide if she'll risk it all on a secret romance or focus on herself and the life she's trying to rebuild.
Though it sounds like the classic conundrum of whether or not a woman can have both a bustling career and a bountiful love life, Perrier assured me that the film does well to cover the beauty and chaos that comes from that tug-of-war in a way that stays true to the beloved romcom genre .
"It's a romcom and those are like two wings of a bird. Like you need both to fly, you know, you need the romance, you need to feel like you're falling in love," Perrier told The Root. "But you also need the relief of laughing at how messy things can get, laughing at your own choices, laughing at what the other side of it looks like. And just sex and sexuality and falling in love can all be very hilarious and very clumsy. And you need both. So for me, I really wanted to make a great romcom and and put [in] both of those feelings."
She continued:
Right when we take you to the most romantic moment, then we take you to a really funny moment. And then drama does come in, but then on the other side of that drama—people are coping by laughing. And, you know, I think that that really speaks to our culture. And I think those are the things we've been missing from the genre in general. So I really wanted to drive that home and our incredible cast was really on board with it. They wanted they wanted the romance and the laughs as well.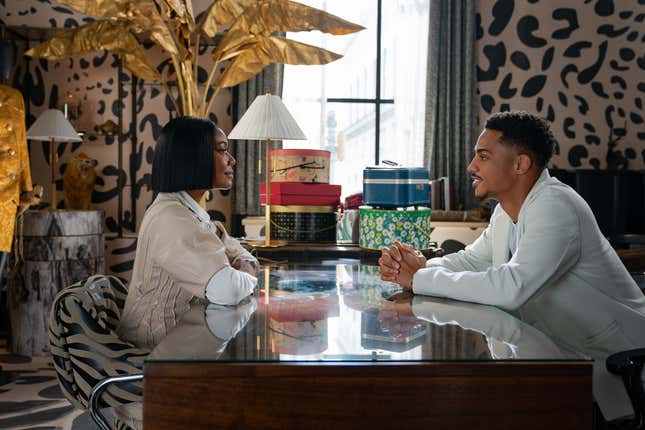 Speaking to the cast's commitment to bringing this story to life, Perrier praised Union and Powers for their chemistry as the film's lead but also shouted out the supporting cast of Gina Torres, Aisha Hinds, Janet Hubert and more who all contributed to telling an authentic story that's filled with love, laughs and hope—even for the hopeless romantics out there.
"We [Perrier and Union] both wanted this film to give people some hope. The character of Jenna is not this kind of perfect—it's The Perfect Find, but she's not the perfect woman, right? She's not making the perfect choices here," she explained. "And that's what makes it so interesting because we all find ourselves at those crossroads as well. Like, well, why not take the chance and go for the younger guy? Why not take the chance and go for the older guy? You know, why not take all of these different chances and just have the experience of where that might leave you? You might have to clean up the mess at the end. She does have to do that. But that's really why we love watching these movies. And so we wanted to really hark back to that."
Messiness aside, there is an underlying sweetness that's also prevalent in the film. This is apparent, specifically during an unscripted scene where Union's Jenna pushes past whatever internal inhibitions she has and expresses her feelings to Eric during pillow talk and kisses his forehead. It's a moment of vulnerability that most women can relate to and one that Perrier reveals was her favorite to capture onscreen.
"I think the moment between Gabrielle and Keith where, I call it the 'post-coital,' scene where everything kind of slowed down and we're doing a lot of really beautiful close-ups both of them and having that first little pillow talking moment. And just kind of out of the blue, Gab says to Keith, or Jenna says to Eric: 'I like you.' And she kisses his forehead," Perrier shared. "And it's just so sweet and intimate and vulnerable of her to say that, do that in that moment. It's such a special, sweet 'I'm falling in love' moment. 'We just had great sex' moment. I'm really proud of that little moment because she felt safe enough to say that. It wasn't scripted."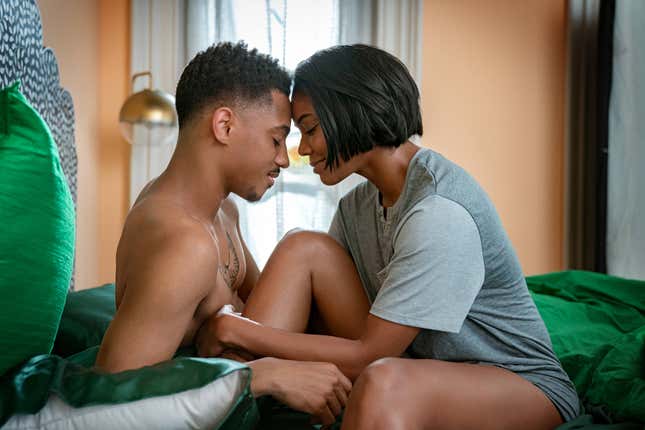 She continued: To say to a a man, 'I like you?' I don't know [laughs]. It's almost stronger than I love you, in a way, in that moment. Just for her to say that, she's really feeling him and she's enjoying this moment and that it feels good she doesn't have to hide it—or wait for him to say it first. It's a true pillow talk moment. They're really opening up to one another, they really let it rip with that scene. and they trusted me. And we got something special."

Later, when we discuss the overall film canon of Black romcoms past, present and future, Perrier expressed joy in the fact that we've had great blueprints to build off of. And that we're now at a place where we can mesh together stars from our fave classics with up-and-comers of today to create something new and fresh that reminds us all of why romcoms hold such special places in our hearts.
"We've always been here, but this is definitely a bit of a renaissance moment in terms of romcoms," she explained. "It was a renaissance moment a couple of decades ago, and we're still holding onto those films. I think it's great to be able to have like a fresh bunch of ones that include the stars from that era, but also introduce us to new stars like Keith Powers or that show us people that we've seen in very dramatic spaces like Aisha Hinds, Gina Torres who always plays a bad bitch—but you see her play a bad bitch with this extra like playfulness on top of it. It's something really special."
She concluded: "So, you know, I just want to see us continuing to go into those areas. I think we're really, turning that inside out now. But ultimately it's just letting us feel the feeling of falling in love and knowing that there's no better feeling than that."
The Perfect Find is available to stream now on Netflix. This interview has been edited and condensed for clarity.