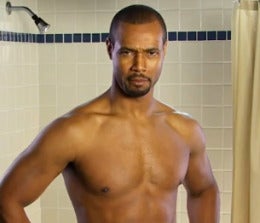 The Old Spice guy, Isaiah Mustafa, took the Internet and television commercials by storm this time last year with his bare bod wrapped in a towel. Whether he's standing on a beach or in the bathroom, women across America have swooned over him as he peddles body wash.
After a short hiatus, Mustafa is back. But this time, instead of airing a steamy commercial on Super Bowl Sunday, he will release an ad to one lucky "super fan." Details of the contest are in this new video below.
Beware of the striking brown eyes.
Read the rest of this story on Black Web 2.0.
In other news: Tichina Arnold Returns to Television.