Richard Wolf and David Jackson of USA Today are reporting that the annual White House Easter Egg Roll will be held today on the South Lawn. The event dates to Rutherford B. Hayes' administration, when it was moved to the South Lawn from the grounds of the U.S. Capitol. Lawmakers there had banished it because of the mess it left and a tight landscaping budget. Today the White House Easter Egg Roll is a tradition that gets bigger and better each year, with thousands of visitors, including celebrities, coming to hunt for Easter eggs on the South Lawn.
The event, which starts at 7:30 a.m. and ends at 6:20 p.m., hosts 6,000 people for two hours apiece. This event is more crowded than visits from foreign leaders. Over the years, its popularity has grown, creating a backlog of disappointed children who didn't make the cut. This year 205,739 tickets were requested through an online lottery.
Each administration feels a need to put its imprimatur on the event. First lady Pat Nixon unveiled the first Easter Bunny. Rosalynn Carter brought in farm animals. Nancy Reagan added Hollywood-style clowns and characters. Laura Bush brought in Miley Cyrus and the Jonas Brothers.
Celebrities this year include Willow Smith, Kelly Ripa, Sesame Street's Elmo, singer Colbie Caillat and the Harlem Globetrotters. Last year Justin Bieber showed for the event.
The traditional egg rolling and egg hunting will be accompanied by basketball and tennis training, football and baseball obstacle courses, a yoga garden and farmers market. Even the theme carries an admonition from the first lady's Let's Move initiative: "Get Up and Go!"
G/O Media may get a commission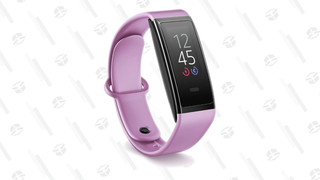 44% Off
Amazon Halo View Fitness Tracker
"It's natural when you're in there to want to make it better every year," says Debra Dunn, who ran the White House visitors' office in the Bush administration from 1989 to 1993. "Do you think people would want to line up and do this if they were only going to roll an egg?" That's pretty much a safe bet.
Read more at USA Today.
In other news: Brandon Marshall: Miami Dolphins Receiver Stabbed.
Like The Root on Facebook. Follow us on Twitter.