The 2010 South by Southwest music and technology conference (SXSW) in Austin, Texas, earlier this month could easily be mistaken for a twisted game of musical chairs: The jambalaya of independent artists, industry suits and iPhone-carrying fanboys in attendance hopped from flea bars to dance halls to bookstores, in search of live shows—never knowing when the music would stop. Some of the biggest acts—jazz team Sharon Jones and the Dap-Kings, British upstarts The xx, electro-stylists Major Lazer, and a revanchist Bone Thugs-n-Harmony—thrilled packed lawns and auditoriums throughout the week. But some bands labored in obscurity, playing their unique brand of acoustic rap, or Tejano ska, to a few tipsy watchers in empty restaurants.
This divide, between the haves (bands with fans) and have-nots in Austin undergirds a heated political conversation that will grow as the spring and summer concert season unfurls: What to do about Live Nation Entertainment, the Frankenstein-ish conglomerate formed when Ticketmaster and Live Nation merged in January 2010. When the two companies became one—after faint protest from independent promoters and the concert-going community—they planted the seeds of a significant intervention in the future of music.
The company's new mission statement is "to maximize the live concert experience." In practice, this means putting on upwards of 22,000 shows around the world, selling 140 million tickets and reeling in nearly $6 billion in revenue. But this success comes at the expense of consumers, and a recording industry going through major adjustment pains. As digital music (20 percent of Rihanna's revenue comes from ring tones) and live shows (ticket sales were up 4 percent in 2009, despite the recession) replace album sales as the primary source of revenue in the music industry, the mega-company could reach further into the wallets of eager fans. And its potential monopoly could throw independent, grassroots musicians off the biggest stages permanently.
The Biggest Loser
Ticketmaster was founded in 1976 by graduate students in Arizona who developed software to sell many tickets, at the same time, from many places. Before that, seeing a big band on tour meant standing in line outside your favorite theater (romantic perhaps, but frustrating). Today, Ticketmaster charges for the "convenience" of eliminating that wait time—collecting $1.1 billion dollars annually on these fees alone. Live Nation, which began to snowball in 1996, took care of getting bodies in the door come show time. Backed by capital from SFX radio stations (themselves the subject of antitrust accusations), Live Nation grew from a handful of regional promoters into a well-oiled confederation of professional promoters and dedicated venues (such as the House of Blues franchise) that, by 2000, ran 80 percent of the concert market. Its new artist management division offers "360" promotion deals that ensures megastars like Jay-Z, U2, Lady Gaga or Dave Matthews' Band can simply wave a hand and have 100 sellout shows lined up around the world.
G/O Media may get a commission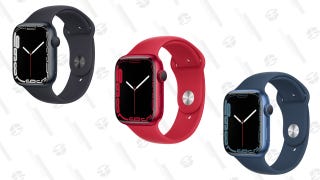 Up To $45 Off
Apple Watch Series 7
Music fans probably know each entity as its own company. But Live Nation Entertainment—a hydra-headed promotions, ticket-selling or re-selling, merchandising and management company—is about to become a household name. The new corporation, whose $889 billion merger required a controversial waiver from the U.S. Justice Department, will own about 80 percent of a $4.4 billion annual concert production marketplace.
It's no surprise the new company has removed all traces of "Ticketmaster" from the new name. Over 30 years, the brand has come under fire from big names in the music business, from Pearl Jam in 1995 to Bruce Springsteen in 2009. Fans have also endured their price-gouging methods and instant sellouts. Under Ticketmaster's reign, ticket prices rose 160 percent since 1999 (well over the pace of inflation)—not to mention the cost of the shirts, beers and hot dogs Live Nation sells at a premium to smitten fans.
This attempt to merge and rebrand unpopular practices displeased many musicians I spoke with. "It's so hard to make money on the promotions side," says Eddie Sumlin, an independent R&B musician in Austin. "Friends of mine are fighting tooth and nail for all of the top-line shows. They take big risks to have the big names," he adds—with no guarantee that bands will choose them over the bigger fish. Indie darlings Vampire Weekend, for example, skipped SXSW this year—all of their North American appearances are being managed by the new conglomerate. Even before the merger, Live Nation could hassle and squeeze out anyone who tried to pierce the bubble of management, sales, and promotion they had placed around "their" artists. Joel Flynn, a musician and professor at the University of Vancouver, recalled some film work he tried to do with New York City band The National. "Every year they'd come back [to Vancouver] a little bit bigger, and by the third year they were at the Commodore. We set up a recording session as we'd done in previous years. And two days before the show, I get a call from Live Nation, which owns the Commodore, saying: 'If you're going to film here, you're going to have to pay what's called an 'origination fee' of $8,500.'" Needless to say this was an effective deterrent.
No Trust
The chief complaint from promoters, concertgoers and consumer advocates alike is that having no choice about where to get a ticket to see Springsteen or 50 Cent is a violation of American antitrust law. Susan Grant, director of consumer protection at the Consumer Federation of America, swiped at "the fewer choices and higher prices that would result from this merger." Though the federal government requires Live Nation to share technology with competitors, the American Antitrust Institute released a paper saying the company's "vertical integration" across many facets of concert production would be bad for music fans.
A spokeswoman for Live Nation in Beverly Hills would not comment about the ongoing merger or provide an executive to speak to The Root. But the rules that govern such antitrust cases are clear, according to George Priest, an antitrust expert at the Yale Law School. Typically, the Justice Department will challenge mergers or acquisitions where the two acquiring (or merging) firms are in competition. This would be like McDonald's and Burger King merging into one fast food mega-chain that ultimately would reduce competition and choice for consumers. "But if the firm is in two different industries, they are not in competition, and Justice won't touch it," says Priest. This seems to be what happened with Live Nation Entertainment.
Fair Enough
But the politics are not so simple. A few months after President Barack Obama's election, the new Justice Department rolled out a tough new set of guidelines regarding antitrust protections. During the 2008 campaign, Obama had briefly addressed the issue of trust-busting: "I will … take effective action to stop or restructure those mergers that are likely to harm consumer welfare," he said. When it came to the recently passed national health care bill, he was happy to roll back the antitrust exemption that health insurers had enjoyed for decades. In fact, at congressional hearings about Ticketmaster/Live Nation deal, senators from Republican Orrin Hatch to Democrat Charles Schumer bashed the merger as a raw deal for consumers. So why did the Justice Department roll over for this unpopular deal?
At SXSW, Christine Varney, the head of antitrust at the Justice Department, answered questions about the merger at a panel on Obama's music industry policy: "We concluded the remedy that would satisfy the legal concerns regarding ticketing and that was the remedy we ultimately put in place," she said, "including behavioral provisions that require [Live Nation Entertainment] to deal openly and fairly without regard to whether the venue uses the ticketing services."
Nevertheless, one panel attendee charged conspiracy: After all, Jules Genachowski, Obama's head of the Federal Communications Commission (charged with regulating Live Nation Entertainment) was on the board of directors for Ticketmaster as recently as last summer. Ariel Emanuel, the brother of Obama's chief of staff, is on the Live Nation Board. "Did they ever ask the president to intervene?" he asked. Varney denied knowing whether Genachowski or the younger Emanuel had mentioned the appeal.
And the law doesn't care if the commodity in question is art. Alan Kreuger, a Princeton University professor who has written on the economics of ticket buying, has said "there is still an element of rock concerts that is more like a party than a commodities market." But the rude economics of an industry scrambling to stay profitable and relevant don't take that into account. If fans can't afford to see a show, or independent community venues go under, that's tough luck, said Varney, who reaffirmed her belief that "competition drives consumer welfare. It increases output, provides a platform for innovation and potentially lowers costs. … As to how it will affect the creative economy, we don't know."
Dayo Olopade is Washington reporter for The Root. Follow her on Twitter.
Become a fan of The Root on Facebook. Follow us on Twitter.
Covers the White House and Washington for The Root. Follow her on Twitter.