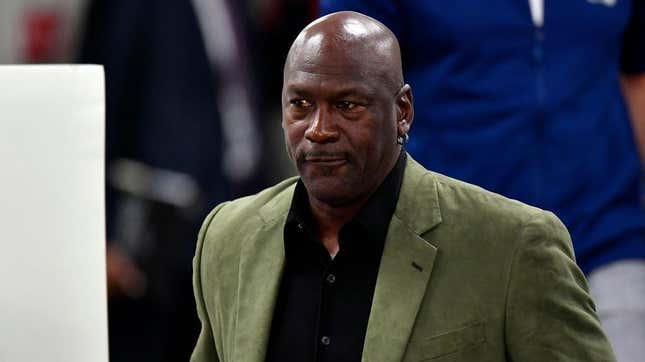 Michael Jordan's time as the owner of the Charlotte Hornets is over. As a result, the NBA (and the other major sports leagues) no longer have a Black owner.
How A Coffee Brand Scaled Up Its Business & Scored A Partnership With The NBA | Securing the Bag: Part 2
On Friday, Jordan agreed to sell his majority stake in the Hornets to a group highlighted by Gabe Plotkin and Rich Shnall for $3 billion, according to ESPN. Hip-hop superstar J. Cole is also a part of the ownership group and will have a minority stake in his hometown team.
While Jordan's 13-year tenure as the owner of the team was nothing to write home about, I feel like his presence in the league was important. Not only because he's the most popular athlete in the history of the sport, but also because he was the only Black owner in the NBA.
Before Jordan, the only Black owner in the league was Robert Johnson, who coincidentally owned the Hornets before MJ.
Why is it a problem that there are no Black sports owners?
Despite Black athletes taking up a majority of the spots in the NBA and NFL, representation in coaching, executive, and ownership positions is extremely lacking. This is a result of implicit bias and the racial wealth gap in this country.
For someone to become an owner in the NBA or any other major sports league, the other owners have to agree to let you buy the team. It's not just based on who has the most money, the billionaires have to let you into their little "boys club." They have to like you. For white owners, many of them cannot "relate" to a Black billionaire who says he wants to own a team.
Furthermore, there are also very few wealthy Black people who have the ability or interest to take ownership of a professional sports team. In the entire world, there are only 14 Black billionaires, with only eight of them being African-American.
Even if they are billionaires, how many of them can legitimately afford to become a majority owner of an American sports franchise? Very few of them.
I can already hear the comments, "Why should we care?"
We should care because I believe that Black people should have economic influence in the sports that they helped popularize. The most popular and best athletes in the NBA have always been Black: Bill Russell, Kareem Abdul-Jabbar, Dr. J, Magic Johnson, MJ, Shaq, Kobe, and LeBron James.
The same could be said for the NFL, especially with the recent uptick in elite Black QBs in the league.
For too long, owners have been able to profit off of the labor of Black people, and these leagues have been unable to prove or provide Black owners with ample opportunities to run a franchise.
As veteran sports journalist and author David Steele told The Guardian, "If they were ever going to do right by all those players they've made billions off of they would have done it by now. Black ownership is the last chance for these sports to prove they're not just fundamentally racist."
And for more than a century, American sports leagues have been unable to prove otherwise.