A Street View of Addisleigh Park
Addisleigh Park was where New York's black elite went in the late 1940s and 1950s when they wanted to move from a Harlem apartment to a real house. This enclave in mostly black St. Albans, Queens, was renowned for its celebrity residents and Tudor-style homes.
Captions by Joel Dreyfuss
Lena Horne's Home
The legendary Horne lived in Addisleigh Park for a number of years when her career was on hold because of her outspoken support for civil rights. She persevered and found a second wind that lifted her to iconic status.
Count Basie's House
His most famous nickname after his royal title was "the Kid From Red Bank," but Basie spent more time at his Addisleigh Park home than at his native New Jersey Shore.
G/O Media may get a commission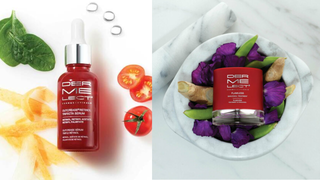 Save $19
Retinol Renewal Kit
Billie and Basie
Billie Holiday and Count Basie were partners in the studio and neighbors in Addisleigh Park in 1957.
Home of Ella Fitzgerald
Ella Fitzgerald reigned for years as the queen of jazz singers, crowned again and again by critics and fans in a career that spanned five decades. For many of those years, her home was this house on Murdock Avenue.
Sarah, Pearl and Ella
Addisleigh Park resident Ella Fitzgerald (far right) rehearsed for a 1979 TV special with Sarah Vaughan and Pearl Bailey. The photo was taken by master bassist Milt Hinton, also an avid photographer.
King of the Honk
Illinois Jacquet's muscular tenor sax solos, complete with melodic honks, influenced the R&B saxophone styles that followed jazz in the 1950s. Jacquet often visited the home of his Addisleigh Park neighbor Dr. William McKinney to listen to his extensive jazz collection.
Milt Hinton at Home
From left: Bassist Milt Hinton; his mom, Hilda Downs; and boyhood friend Ed Burke outside the Hintons' classic English Tudor in Addisleigh Park in 1966.
Jackie Robinson
The first black player in major-league baseball worked the base paths at Ebbets Field in Brooklyn, N.Y., starting in 1948. It was an easy commute to his home in the neighboring borough of Queens and the exclusive enclave he and his family shared with other black celebrities.
James Brown's Home
He called himself "the Godfather of Soul," but residents of Addisleigh Park knew the extraordinary James Brown as a neighbor.
Poolside Celebration
Neighbors and children flocked to Count Basie's backyard swimming pool to celebrate Freedom Day (Juneteenth) in the summer of 1961.