Dancing With the Stars would never have happened without Frankie Manning. One of the greatest dancers in American history passed away last week at age 94, but the swing dance craze that he helped to inspire is a testament to his contribution to American culture.
What is perhaps most remarkable about Manning is that he had two extraordinary careers as a dancer, and they took place three decades apart. He didn't invent the Lindy Hop, the most athletically bravura style of social dancing, but his innovations brought it worldwide attention and gained him substantial notoriety and fame. After the ballroom era faded in the years after World War II, Manning went to work for the post office. But a surprise inquiry from swing dance enthusiasts in the mid '80s brought him back to the dance floor, and he won a Tony Award for his work in the Broadway revue Black and Blue. He taught Denzel Washington how to dance the Lindy for his role in Spike Lee's Malcolm X.
Frankie Manning was born May 26, 1914 in Jacksonville, Fla., and moved to Harlem with his mother three years later. He took an interest in dance in 1929 when he joined the youth dance program at the Alhambra Ballroom. As a young man, Manning worked as a furrier but dance remained his primary interest. In the '30s, most ballroom dancing consisted of "social" dances like waltzes and fox trots, but the music was undergoing a revolution. The swing era, heralded by bands lead by Count Basie and Fletcher Henderson, created a new vibrant and powerful music full of fast tempos and exuberant solos. The Lindy Hop was the dance to match this music. The dance was fast, rhythmically precise and astonishingly athletic. Manning's innovation was called the aerial, a move in which he tossed his partner in the air in rhythm to the music.
Ballroom owners were ambivalent about this new dance and music. Some complained that the Lindy Hoppers took up too much room on the dance floor, and others noted that few patrons were athletic enough to dance in that style. One entrepreneur, Herbert White, saw substantial entertainment potential in the dance and organized a troupe, Whitey's Lindy Hoppers, which were headquartered at the Savoy Ballroom; he paired Manning with Naomi Waller, and their unique style took off. The troupe toured Europe, performing in France, Ireland and England. So intense was the interest in Lindy Hopping that the King of England attended the troupe's performance at the London Palladium in 1937.
When he returned from Europe, Manning choreographed and performed the Lindy Hop scene in the movie Hellzapoppin (that's him in the overalls), and it remains, 70 years later, one of the greatest dance clips in movie history. Manning performed at the New York World's Fair in 1939, then served in the South Pacific and Japan in World War II. After the war, he led a troupe called the Congaroos, and they danced in the movie Killer Diller. The troupe toured England and South America, but in America the ballrooms were closing and jazz had changed; bebop, a more complex, less danceable style was the new rage. So in 1955, Manning abandoned dancing and took a job at the post office.
G/O Media may get a commission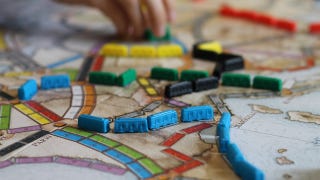 Tabletop & Board Games to Play This Fall
For all of his enormous success, Manning remained a humble, self-effacing man. When Erin Stevens, a swing dance enthusiast, called Manning in 1984 (after getting the number via 411), she asked if he was Frankie Manning, the famous dancer. He responded, "I don't dance anymore, baby, I just work at the post office."
He came out of retirement to tutor Stevens and her dance partner on the Lindy Hop. Soon after, he began teaching classes at the Sandra Cameron dance studio in Manhattan, and with a swing dance revival picking up steam, he began performing again. Still dapper and charming, he called dancing "three-minute romances."
In 1989, Manning and Norma Miller, another member of Whitey's Lindy Hoppers, choreographed "Opus McShann" for the Alvin Ailey American Dance Theater. Three years later, he tutored Denzel Washington and appeared in the Lindy Hop scene in Malcolm X. Washington said of his then 78-year-old mentor, "We were all just trying to keep up with him."
In 2000, Manning received a National Heritage Fellowship from the National Endowment of the Arts. With Cynthia Millman, he penned an autobiography, Frankie Manning: Ambassador of the Lindy Hop, and he's the subject of a documentary, Never Stop Swinging, that will air on PBS later this month. A five-day festival was set up to celebrate Manning's 95th birthday, in New York City, May 21-25. It will include five nights of dancing, competition and events. Before his death, Manning insisted that the celebration go on even if he couldn't make it. He didn't want anything—even his passing—to get in the way of people dancing.
Martin Johnson is a regular contributor to The Root.
Martin Johnson writes about music for the Wall Street Journal, basketball for Slate and beer for Eater, and he blogs at both the Joy of Cheese and Rotations. Follow him on Twitter.