Alert! Alert!
Ladies and gentlemen, the Western Hemisphere's Association of Tragedy, Dumpster Fires and Unbelievably Crazy Catastrophes (WHATDFUCC) interrupts your Friday-night festivities to announce that the body of one of the country's foremost Hotepologists has been possessed by what appears to be the soul of a joint collaboration between the spirit of Montell Jordan's "This Is How We Do It" and a barbershop bootleg cover of Johnny Kemp's "Just Got Paid."
Nah, B. This ain't no drill.
Tariq Nasheed, the heralded filmmaker of the semifactual Hidden Colors film series, who wields his Twitter account like a medieval mace to smash white supremacy, critical thinkers, and any "bed wench" who dares to take ownership of her vagina and not subject it to the will of ashy niggas who refer to her as a "queen," has announced his new career as an R&B singer from 1989.
Those familiar with Nasheed know that he began his career as a pimp-adjacent dating guru known as "King Flex," instructing thirsty men on the art of tapping into their inner pussy predator. He soon transformed himself into a documentarian by chronicling the shenanigans of the leading charlatans in the black community, paving the way for some of the most popular imaginary institutions in black America, like the Boyce Watkins Bullshit School for Bitcoins and Dr. Umar's Hotep Academy for Straight Black Boy Magic that is currently looking at purchasing a property on the outskirts of Wakanda.
Apparently, Tariq Elite, disenchanted by his snub at the 2018 Academy Awards, has embarked on a new career in the lucrative field of shucking and jiving. His new video with his band Mink Slide combines the style of the band at Miami-Dade County High School's 1992 senior prom with music from the band the Time (if Morris Day had a stroke and the band replaced him with someone else who had a worse stroke but also had less musical talent).
G/O Media may get a commission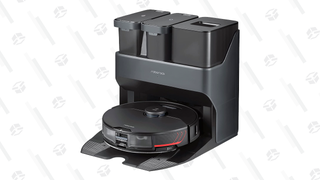 24% off
Roborock S7 MaxV Ultra Robot Vacuum and Mop
Reminiscent of the No. 11 video from BET's Video Soul weekly countdown (It doesn't matter which week, they're all the same), "It's Time" features King Flex sporting a variety of smoking jackets as he entertains light-skinned women in a nightclub backed by a Casio keyboard set on "funky white nonsense" and a house band.
But the genius of the video is the stage performance. Wearing Jon Snow's coat from his time with the Night's Watch, Nasheed does his best impression of Omarion (after he went solo). While he is no Oran "Juice" Jones, Nasheed can actually carry a tune as he sings the poetically seductive lyrics:
I see your legs. I see your hot bah-day
I want you to know, I came here to par-tay
There's only one who captured my eyes. It's you!
So what we gonna do?

In VIP, I got my bottle service
Come on over, baby, don't be ner-vess.
There's only one place you should be: With me!
So what's it gonna be?

I want to get you on the floor and grind
I wanna feel your body next to mine
I want to introduce myself to you, cause you feel me on the low
And I gotta let you know

(Chorus)
It's time (for you to take my hand); it's time (for you and I to dance)
It's time (to get you on the floor); it's time (to get you out the door)
It's time (for me to kick my game); it's time (to get to know your name)
It's time (to get you in the groove); it's time (so what you wanna do?)
I would type more, but I'm pretty sure the lyrics are from a sonnet by William Shakespeare or a poem by T.S. Eliot, and I am under strict instructions by The Root's legal department not to infringe on anyone's copyright.
But you won't believe what happens next.
If you use your third eye (or even the first two), you'll see a man come out to center stage for a guitar solo. Not just any man ... a white man! That's right, the king of conscious DVDs is dancing a jig to a white boy's funk-guitar solo!
Threat-level zero! Abort! Abort!
Because of the lateness of our discovery of this video, we were unable to confirm the amount that Nasheed sold his soul for, but from the quality of the video, we estimate his price for stepping and fetching to be somewhere between a month's tuition at the Watkins School for Economic Tomfoolery (featuring Charles Wu) and the amount in Umar Johnson's GoFundMe account.
For more information, or to book Tariq Nasheed for a private shuck-and-jive performance, contact WHATDFUCC on our nonexistent website, or ask the next dude with level 5 ashiness who refers to you as a "wombman."
We now return you to your regularly scheduled programming.