Director Tate Taylor had everything he needed to make a more palatable adaptation of Kathryn Stockett's ahistorical novel, The Help — that is, for those of us who know our herstories. He had beautiful, gifted black actresses (chiefly, Viola Davis, Octavia Spencer, Aunjanue Ellis and the incomparable Cicely Tyson) and pretty, young and not-so-young white ones who didn't have to do much more than be petulant (Bryce Dallas Howard) and privileged (Emma Stone, Allison Janney and the devilishly divine Sissy Spacek) on cue.
He also had this truth: His leading lady, Aibileen (Davis), is a maid who writes privately. Zora Neale Hurston, arguably the most celebrated black Southern novelist of the first half of the 20th century, died poor while working as a maid.
Instead of having Aibeleen cling to her King James and church fan emblazoned with blond, blue-eyed Jesus, why not let her — in the privacy of her home and the outhouse that is designed to demean her — pore over Their Eyes Were Watching God or Seraph on the Suwanee? Why not let Howard's Hilly Holbrook attempt to destroy Aibileen's dream of being a published writer on her own by telling her that her beloved Zora "died as nothing more than a maid"?
Why not, then, have Aibileen tell Skeeter (Stone), whom she's helped get a job at Harper & Row — which, by the way, would later publish several of Hurston's books — that she should expect her own manuscript in the mail? And why not, in the film's closing moments, have Aibileen and her best friend, Minny (Spencer), at her home working on their great American novel?
Therein would have been a simultaneous nod to and revision of history that many more of us could embrace — or that would be, as poet Lucille Clifton wrote, a proper tending to the past, a remembering of forgotten faces, names and dates. Therein, too, would have been an apt setup for a landmark sequel that, sadly, we may never see.
G/O Media may get a commission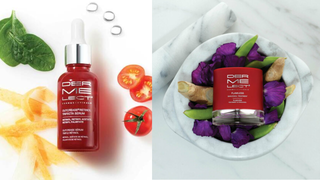 Save $19
Retinol Renewal Kit
Why? Because colored girls should only not consider suicide or "Tip Drill" bootyliciousness when, The Help says, helping their white and brown babies feel better is enough.
Instead, in trying to abate the shame of how we've brutalized black women, we've lied or enabled the liars, especially with any endorsement of The Help — those black actresses' amazing performances notwithstanding. We can't really handle the complex truths, our inexorable legacies — yes, inexorable, among all races — of devaluing black women's minds, bodies and voices. The unfolding drama of the Strauss-Kahn case in the heart of progressive New York City has proved that poor black women's voices, bodies and minds are not respected.
"You is smart. You is kind. You is important."
Aibileen never looked in the mirror at her own divine mien and said to herself these words that she so fiercely taught her white baby girl. Even if none of the other scenes I've imagined were filmed, what a difference a brief moment like that alone would have made in showing what the black women I've loved have always known about themselves!
If we can't dream with an accurate and circumspect sense of the herstories in our history, how do we expect our children to?
L. Lamar Wilson, an English Ph.D. student at the University of North Carolina at Chapel Hill and a longtime copy editor, has published essays and poems in the Washington Post, Rattle, Post No Ills, Connotation Press Online, Vinyl and The 100 Best African American Poems, edited by Nikki Giovanni.