To know me is to know I am a Minneapolis native, raised in Chicago, who spent two decades living in Brooklyn, N.Y.—and that basketball is the only sport I even remotely follow (despite my 5-foot, 10-inch frame). So to say I was a little hype over the second release of Nike's City Edition jerseys would be a slight understatement—after all, the sportswear juggernaut outdid themselves this year, while once again drawing inspiration from each city's history and a few beloved icons to create their 2018-19 designs.
Case in point: My hometown honeys, the Minnesota Timberwolves, may not be known for their wins on the court (yet—a girl can dream), but Nike's"Purple Rain" uniform is a definite win. With a color scheme and detailing paying tribute to legendary local icon Prince, who would've turned 60 this year, this is one to cop for basketball and music lovers alike.
The font? Inspired by the movie and album's recognizable artwork. And the pyramid-like print at the shoulder? It's a nod to Prince's '80s-era studded leather jackets. There's even a little purple paisley patch inside the shorts left vent, honoring his studio, first record label and one-time residence, Paisley Park.
And as for my adopted home of Brooklyn? The Nets' "Spread Love" jersey is an homage to the COOGI sweater-loving Notorious B.I.G, mimicking the colorful patterns on the trim of the otherwise traditional jersey, with a photo shoot staged on his childhood block, St. James Place (fun fact: I used to live across the street).
G/O Media may get a commission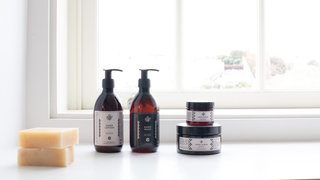 Exfoliate and Hydrate
The Handmade Soap Company
For the Chicago Bulls, it was a nod to our city's historic flag. (We couldn't get a Jordan reference, y'all? An Obama? An Oprah? A Chance? And yes, I realize only one of those four people was actually born in Chicago.)
The full collection rolls out between November 1-9, but so far, Nike has given its other NBA franchise cities the star treatment too—including bringing back the Denver Nuggets' old-school rainbow skyline. Want to see how they immortalize your favorite team and city? You can check out the Nike x NBA City Edition collection here.