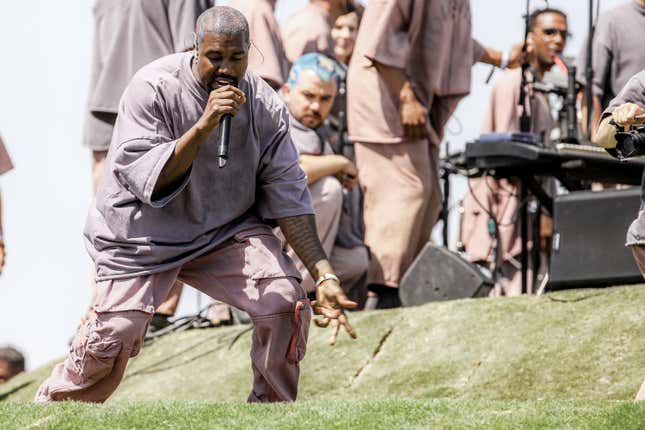 He gave a "Sunday Service" performance at Coachella; now, Kanye West apparently wants to give Sunday services for real—at a church of his own.

Small Town Horror Story: The Vietnam Veteran Who Refused To Leave A Man Behind
Yes, that's right. According to a source close to Ye, the man known for "Jesus Walks" wants to minister to people from the pulpit as opposed to the studio, People reports.
His "Sunday Service" performance Easter morning at Coachella, which drew some 50,000 people, served as inspiration, according to the source.
"He has talked about starting his own church, and what exactly that would be," the source told People. "It wouldn't be the traditional, three-hymns-and-a-sermon thing. Instead, it would be a way to point people to Jesus through the arts and through a community of people who love and care for each other. He also wants his kids to be raised in faith, and the best way for him to do that is to live out his faith."
As People notes, Ye has been delivering his "Sunday Service" weekly since January, and usually the performances are invite-only events.
Ye sees a church as being a way to spread his message, the source tells People, though there are no official plans currently.
"Kanye has always said that his vision has always been for people from different backgrounds—races, ethnicities, beliefs, politics—to come together to worship God and love other people," the source said.
The Gospel according to Ye. Maybe instead of a collection plate, congregants can simply patronize Ye's "Church Clothes" merchandise as attendees did at Coachella, where, as the New York Times reports, "Jesus Walks" socks sold for $50 and Trust God T-shirts sold for $70.
Hey. To many eyes over the years, Ye's clothing line often gave rise to the notion of the "least of these." Now, he apparently wants to minister to them.
Maybe the Lord really does work in mysterious ways.
*kanye shrug*