As we all well know, for Christians, the height of the holiday season is the celebration of the birth of Jesus Christ—the young man who, according to the Bible, was immaculately conceived, born to save us and ultimately died for our sins (with a promise to return). But strangely, it was another young man who earned the moniker of "the Radiant Child" from his admirers; the subject of a documentary of the same name, artist Jean-Michel Basquiat was not only the darling of the '80's art scene but an artist whose impact has endured—no, exploded—in the decades since his tragic death at age 27. And while his original paintings are out of reach to all but museums and one-percenters, it's still possible to gift a little bit of Basquiat's genius this holiday season, if you just know where to look.
Bring Home Basquiat's 'Defacement': The Untold Story
For instance, this year saw yet another successful exhibition of Basquiat's work, this time presented by New York City's Guggenheim Museum and meticulously researched and curated by 2019 Root 100 honoree Chaédria LaBouvier, who became the first black woman to curate an exhibition in the museum's 80-year history with the opening of Basquiat's 'Defacement': The Untold Story.
Couldn't make it to the show? There are still a variety of souvenirs available in the Guggenheim's online store (ranging from $15 lapel pins to $595 chairs). But what's most exciting (to us, at least) is the companion text, also authored by LaBouvier—and while it's currently on sale for less than $21, it's the perfect gift for the Basquiat lover in your life.
G/O Media may get a commission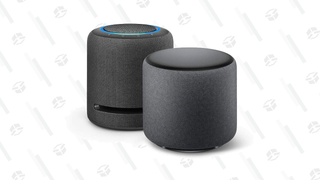 25% off - Prime Exclusive
Echo Studio + Echo Sub Bundle
Say UNO! With a Singular Talent
By all accounts, Basquiat was as playful as he was prolific, and in his honor, toy giant Mattel got in on the action, combining one of our favorite games with some of our favorite artworks. The result? The 112-card, limited-edition UNO Artiste Series No. 1, UNO Card Game, featuring Jean-Michel Basquiat ($16-$40). Frankly, we can't think of any better form of art appreciation than a Draw Four of Basquiat masterpieces, so we know what deck we'll be bringing home to our card game-loving families for the holidays. (Just make sure to snag it fast; these have been flying off the shelves!)
When Jean-Michel Met Maya
As far as we know, Basquiat and one of the other greatest artists of the 20th century, Maya Angelou, never met during his brief lifetime, let alone collaborated. Nevertheless, the work of the two proved remarkably complimentary in the 1993 children's book Life Doesn't Frighten Me ($15), which paired Basquiat's iconic imagery with Angelou's immortal poetry, giving young readers art education with a powerful message. And the pairing has proved timeless; after being named a Publishers Weekly's Best Book of 1993, the still-popular book celebrated its 25th anniversary last year with a new edition, continuing to delight young and adult readers alike.
See the Art, Smell the Art
No, it's not a scratch-and-sniff Basquiat, but we fell in love with these Basquiat-wrapped candles years ago, and keep coming back—they're the ideal gifts for the art-obsessed (including ourselves!). Available in a variety of scents and designs, these wicks are Basquiat estate-approved (as are all the offerings on our list) and will bring a museum-worthy touch to anyone's home or office—and at $60, they're less than one-millionth of the average auction price.
Watch the Throne
Yes, one of Basquiat's most famous motifs was the crown, but no, you won't find any in the Basquiat x DAEM Collection, the black-owned, Brooklyn-based brands' gorgeous array of high-end timepieces created in collaboration with the late artist's estate. What you will get is a timeless tribute to a trio of Basquiat's greatest masterpieces (including "Warrior" and "Now's the Time," combined with details like full-grain, interchangeable Italian leather straps, Swiss Ronda 515 movement, Sapphire crystal glass and more. While these iconic items range in price from $425 to $1250, wearing a Basquiat on your wrist is priceless.
Feeling inspired? Imagine how your Basquiat-lover will feel receiving one of these homages. The artist may have left us, but his art clearly lives on.
Correction: Wednesday, 12/11/19, at 1:20 p.m. ET: An earlier version of this article incorrectly stated that Chaédria LaBouvier was the first black author of a Guggenheim text. As per the museum, the first black authors of Guggenheim texts were actually The Root's co-founder, Henry Louis Gates, Jr., along with Kwame Anthony Appiah, Ekpo Eyo, and Cornel West, for the 1996 exhibition catalogue. The first black women authors of Guggenheim texts were far more recent: Sharifa Rhodes-Pitts wrote an essay on the work of Simone Leigh for the 2018 Hugo Boss Prize catalogue, and Saidiya Hartman, wrote a text as part of the Loophole of Retreat exhibition of 2018 Hugo Boss Prize winner Simone Leigh's work.
The guide has been amended to reflect this.