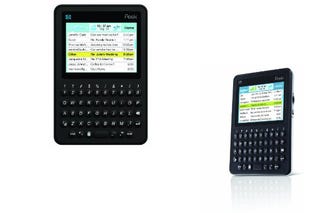 It's not a phone, smart or otherwise.
TwitterPeek is essentially a Kindle for Twitter. That's it. It's a device for tweeting more efficiently, which is abundantly hilarious and even more tragic because it doesn't seem horribly unreasonable. Got the scoop from Marcus Troy
Are they for real? TwitterPeek Mobile Tweeting Device with Lifetime Service Included

They're going to have to open a rehab center for twitter users!

* Unlimited tweeting anywhere, anytime
* No contracts, no credit checks, no activation fees ever!
* Large, full-color screen and full keyboard
* Long battery life of 4-5 days. Fully recharges in under 2 hours
* Usable throughout the U.S. with full nationwide coverage
They are for real. Get the rundown here.