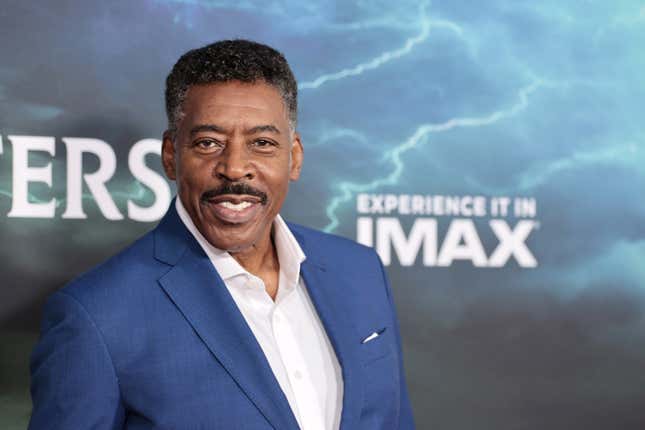 Though Ernie Hudson has a long, distinguished career and is currently thrilling audiences in NBC's Quantum Leap, his most famous role remains Ghostbusters' Winston. The 1984 film is considered a comedy classic and still has a very loyal fan base. However, for Hudson, it wasn't the life-changing experience everyone thinks it was. While speaking with SiriusXM's Gary Dell'Abate and Rahsaan Rogers on The Howard Stern Wrap Up Show, the actor explained "from the psychological perspective" the project was "the most difficult movie" he's ever done.
Quantum Leap & Ghostbusters' Ernie Hudson Plays That's So Random
Hudson has nothing but admiration for Ghostbusters' producer/director Ivan Reitman, saying he "was really, really a brilliant man and I have just so much love and appreciation for him." He also praised his co-stars, noting that his issues are with how the studio treated him.
"I was the guy who was brought in, and so finding my place in the middle of that—and they were all welcoming and inclusive," he said. "The studio wasn't, and the studio continued not to be. So it made it very, very difficult because I was a part of it but then I very selectively was pushed aside."
As an '80s kid, I can attest that we didn't always have the best Black representation in comedy movies. We usually had to make due with the funny Black friend who's only there to add snarky one-liners and ridiculous slang. Winston was different, he was just as smart as his colleagues, and felt more relatable because he seemed to properly understand the absurdity of their job. Of course, as I got older, I began to notice how Winston was definitely treated as "the other Ghostbuster."
"When the posters came out, I'm not on the poster. It took a long time. I went to the 30th-anniversary release of the movie…and all the posters are three guys," Hudson said. "Now I know the fans see it differently, and I'm so thankful for the fans because the fans basically identified with Winston, especially young, I don't want to say minority kids, but a lot of kids."
Hudson and Rogers went on to discuss how the actor felt like he was not being treated the same as his co-stars. Racism isn't always overt, that's what microaggressions are. The Family Business star also dropped the bombshell that he's in negotiations for a new film in the franchise—presumably the follow up to 2021's Ghostbusters: Afterlife. This time around he wants to make sure he's "not an add-on."
"The original script, Winston was in the very beginning of the movie. By the time we got ready to shoot the movie, Winston came in halfway through the movie," he said. "All those things…It definitely felt deliberate. And I'm still not trying to take it personally. Anything bad, if you're African-American in this country, anything bad happens to you, you can always blame it on because I'm Black. You don't want to go there. That's the last thing I want to do…I got nothing bad to say about anybody but it was hard. It took me 10 years to get past that and enjoy the movie and just embrace the movie. Ghostbusters was really hard to make peace with it."
While it's not surprising to find out that a studio in the '80s was disrespectful to the one Black star of its major franchise, it's still hard to hear. Hudson is a bonafide legend who inspired a whole generation of young Black kids as Winston. If we're really committed to the idea that things are different now, then perhaps the next Ghostbusters movie will finally give Hudson and Winston a chance to highlight the character's importance and impact on the franchise and fans.