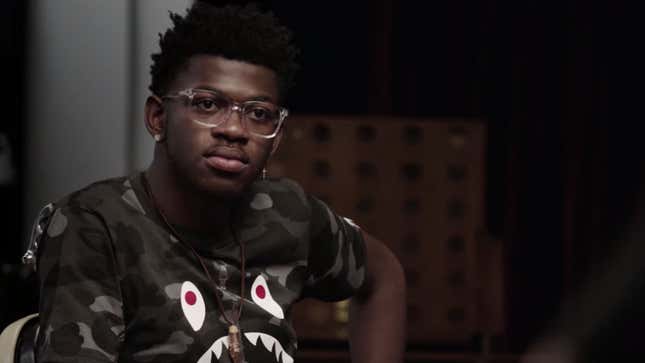 The black barbershop is not just a sacred space, it's a safe space. Much like Vegas, whatever happens within the confines of that room colored with scattered floor follicles stays in that room.

Terry Crews Talks AGT, Hidden Talents, & Falling For A White Chick
There is no filter in the barbershop. Some of the greatest debates happen in the barbershop.

Cue HBO's The Shop: Uninterrupted.

From the show's official website:

In collaboration with LeBron James and Maverick Carter's Uninterrupted, HBO Sports presents unfiltered conversation and debate from the biggest names in sports and entertainment.

The Shop: Uninterrupted gives viewers a one-of-a-kind barbershop experience, which for many provides a sanctuary for free-flowing and spirited discussions. The series will visit barbershops around the country to gather distinguished individuals who can speak honestly on sports, music, world events, business and other subjects integral to the culture.
I guess I'll get this out of the way right now, but I haven't seen a full episode of The Shop yet. It's one of those shows that I've been "meaning" to watch, but haven't gotten around to it, a phenomenon only exacerbated by the fact that everyone and their damn mama has (at least) seen one show. Lots of good and interesting content, not enough time and energy in the day to consume it all—especially as someone who critiques and recaps such for a living. It's a blessing and a curse!

Anywho, that desire to actually finish an episode increased when I came across the following clip for the third episode of the show's sophomore season.
In the promo clip, Lil Nas X discussed his decision to come out and reveal his sexuality.
"Growing up—I'm growing up to hate this shit," Lil Nas X mused, pointing out the toxic masculinity that obviously surrounded him. Naturally, that societal standard contributed to his initial hesitation to speak his truth.

"Why?" an incredulous Kevin Hart asked. Really, Kevin? Really?!

"Come on now, if you really from the hood…" Lil Nas X attempted to explain before concluding that "it doesn't really matter" whether he came out or not. The whole conversation was a gaslighting chamber where a bunch of (presumably) cis-hetero men coaxed Lil Nas X to agree with them that his coming out wasn't entirely necessary nor a big deal.

As heterosexual people don't have to risk it all with their sexual identity, no, it shouldn't matter in an ideal world. But, it fucking does. It does matter for a black fucking rock star to come out as gay for the little black boys who are ashamed about the way they feel because it isn't seen as "normal." And anyone who thinks it doesn't matter is being willfully obtuse at this point.
I can't help but feel for Lil Nas X in this moment, as he attempted true vulnerability in a space he assumed was safe yet was ultimately shut down. What kind of haphazard brotherly love is this?!

For all of its lauding about safety, this black barbershop didn't seem safe at all for a young black man trying to unpack the weight of his sexuality reveal at the height of his career.

Needless to say, the clip started quite the conversation on Twitter.
As I said above, I haven't seen the entire episode and will likely watch it. Maybe it's actually a very fruitful and productive conversation and I'm just reacting "out of context," right? Maybe that horse on the old town road will start mooing. Maybe. *stares at camera*

The Shop: Uninterrupted airs on HBO and the first episode is currently available to stream for free on HBO.com.