The National Association for the Advancement of Colored People's (NAACP) annual celebration of black excellence, otherwise known as The Image Awards, is coming soon and they just dropped their nominees for Entertainer of the Year.

Beyoncé's Feminist Anthem "Run the World (Girls)" A Decade Later
And, whew chillay, the nominee list is filled with heavyweights. Talk about a tough choice.
The nominees are: Beyoncé, Chadwick Boseman, Ryan Coogler, Regina King, and LeBron James. And unlike most esteemed awards ceremonies, you don't have to be a member of an exclusive academy to have a say in this. This category is open to the public.
So, to help you (and me) pick the ultimate winner, let's break down some of the big boss shit each nominee has accomplished in the past year.
G/O Media may get a commission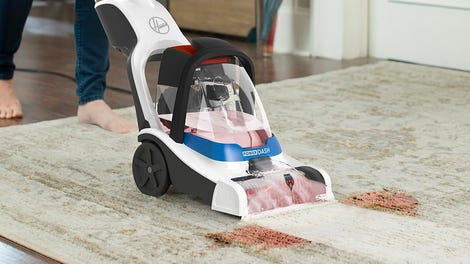 26% Off
Hoover PowerDash Pet Compact Carpet Cleaner
Beyoncé
She existed as Beyoncé. Fin. Okay, okay, okay ... details. Right. There was the time she reinvented Coachella—now lovingly referred to as "Beychella"—as an HBCU homecoming halftime show, while donating scholarships to said HBCUs. Or when she dropped a duo album with husband Jay-Z called Everything Is Love—and helped the Louvre break visitor records after filming their "Apeshit" video there. Then, '03 Bonnie & Clyde went on the run once again. We can't forget that she was the real star of Jay's gorgeous-ass music video for "Family Feud," directed by Ava DuVernay.
And though the actual film will be released in 2019, Beyoncé's name rumbled around the world when The Lion King teaser trailer dropped, despite her character (Nala) not appearing once. The wait and anticipation are real, though.
Chadwick Boseman
First of all, he single-handedly put our tired minds at ease every time he decided to do the "Wakanda Forever" salute every time you motherfuckers asked him to. He should receive a Nobel Peace Prize for that alone. Okay, yes, some of the salutes ended up being halfhearted, but his arms are tired!
Is he Jax from Mortal Kombat?! No. Don't take him for granted. He also did real work by joining the challenge to buy-out theaters for underprivileged youth to witness the marvel by Marvel Studios. The man formerly known as the biopic king is now primarily known as T'Challa ... forever. Yes, forever, even though we saw him fade away into the "don't feel so good" dust in Avengers: Infinity War. I still vividly remember the pained yelp that emitted from the audience when this happened during a screening. T'Challa is beloved.
Ryan Coogler
Since we're on that Black Panther energy, all hail the helmer. Hell, let's just give the award to Black Panther as an entity and a motherfucking crew. But, seriously, Coogler's shine this past year is insane, boasting the highest grossing film with a black director and the ninth highest grossing film of all time. He also officially signed the deal to direct the highly successful film's sequel in 2018, and was also named runner-up for TIME's Person of the Year.
2018 also saw the fifth year of Coogler's #BlackoutBlackFriday campaign, under his Blackout for Human Rights collective. Plus, his refusal to assimilate to anything despite his now A-List status is something to respect. He's just him. And it's black as fuck. And you will deal.
Regina King
King's inclusion in this category is one of those "longtime coming" things, for real. The veteran actress has been far too underrated in past years, and her blossoming in 2018 only highlighted that. We all beamed as we witnessed the genuine surprise awash over her face at the 2018 Primetime Emmys when she won for Netflix's now-canceled series, Seven Seconds. Her stunning performance in If Beale Street Could Talk has the industry buzzing about her being a Supporting Actress frontrunner this awards season (she copped the Golden Globe already), most recently nabbing an Oscar nomination.
Plus, she gives back to the youth, choosing the I Have A Dream Foundation - Los Angeles as her charity of choice at Variety's Power of Women luncheon, where she was honored. Regina been King.
LeBron James
The man who sits on the throne in the kingdom of The Three Billy GOATs Gruff. The most obvious moment in 2018 that sticks out was his famous pivot to the Los Angeles Lakers, but he also opened a whole-ass school for kids in his native Ohio, and championed young black female designers last year by recruiting them to collaborate on the design of his first female sneaker for Nike.
In addition to rocking that purple and gold, James is making a mark in the Hollywood industry with various projects, including The Shop. Plus, if we're talking entertainment, what's more entertaining than his incredulous reaction to JR Smith's fuckery during Game 1 of the 2018 NBA Finals?
Cast your vote at NAACPImageAwards.net. You can vote once every 24 hours until March 4, 2019. And for those of you wondering, the rest of the nominees for the awards ceremony will be announced soon.
The 50th NAACP Image Awards will air live on TVOne, Saturday, March 30, 2019.