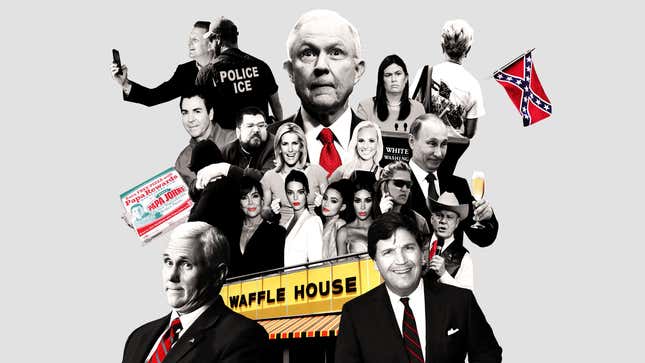 Ladies and gentlemen, we welcome you to the historic Lawry's Seasoned Salt Arena—the only place in America that hasn't been colonized by whiteness—for the Championship Round of the 2018 World Wypipo Tournament!
Here's How Medicaid Expansion Can Play A Role In Black Maternal Healthcare
Sixty-four hopeful teams entered this epic free-for-all a scant two weeks ago with hate in their hearts, believing that each of them had what it took to emerge victorious. Through a process of blood, sweat and white tears, we have managed to whittle the number down to two worthy adversaries, both hoping to be crowned the worst wypipo of all time. (Yes, "wypipo" is the singular conjugation of "wypipo.")
This year's ultimate matchup features one rich white man vs. safety-pin-wearing white women. A dick vs. pussy hats. Starched shirts vs. porcelain skin. This one will be great!
Here is this year's bracket: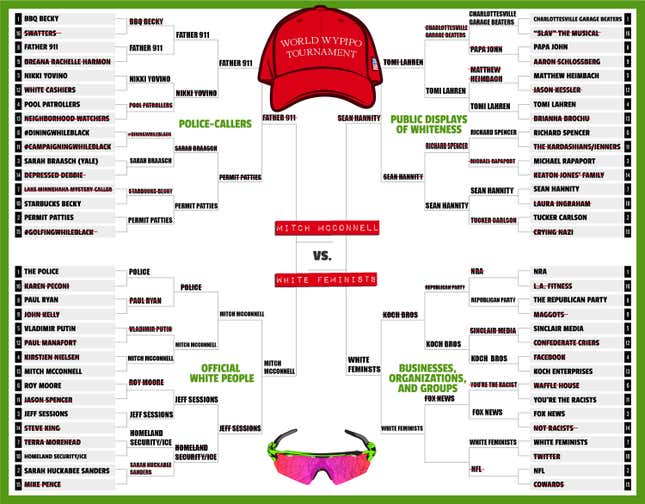 Mitch McConnell
Path to the championship: In the first round, Kentucky Sen. McConnell easily disposed of Department of Homeland Security Secretary Kirstjen Nielsen before winning a close victory against Vladimir Putin. In the surprise upset of the series, he swept past the police and went on to defeat his former ally, Jeff Sessions.
Why he deserves to be here: Mitch McConnell is a white man.
Like a white man, when Donald Trump called countries that sent nonwhite immigrants to the United States "shitholes," Mitch McConnell used his voice and his powerful platform to say absolutely nothing. He has still never mentioned Trump's "many sides" comment about the Charlottesville, Va., Unite the Right rally in 2017.
After the Supreme Court upheld Trump's travel ban, McConnell tweeted a photo of Supreme Court Justice Neil Gorsuch, who only sits on the court because of McConnell's obstruction of Barack Obama's SCOTUS nomination. He led the fight to dismantle the Affordable Care Act and pushed the Daddy Warbucks Tax Bill for the Rich and Famous through the Senate in record time.
While people like Jeff Sessions, Steve Bannon and Tomi Lahren are more hated, perhaps no single person in America is more responsible for the passage of actual policies that harm people of color and maintain white supremacy.
And that, dear friends, is wypipo in a nutshell.
White Feminists
Path to the championship: White Feminists had a tough path to the final round. Rose McGowan helped her team defeat Twitter in the first round and they drowned the entire NFL in white tears in round 2. They slid past Fox News in the Ecru Eight with a series of lawsuits and quickly disposed of Sean Hannity in the Fragile Four.
Why they deserve to be here: After Tarana Burke began a movement to highlight sexual abuse and assault by men in power, White Feminists decided to colonize it by making it all about themselves.
"It's about us," spokesperson Lena Dunham explained through her cucumber-and-mayonnaise wrinkle cream mask. "It says 'me' right there in the title," conveniently forgetting that the "too" part included black women.
Some of their notable achievements this year include:
---
Who is the worst wyperson of 2018? Is it an old white man or entitled white women? Only you can decide. Cast your votes and help us crown a champion.

And remember, there are no losers in this tournament.
Wypipo stay winning.