It can be said Big Freedia, the iconic, bounce music artist whose signature delivery has popped up on songs from the music industry's biggest names, does far more than represent New Orleans. She embodies it.
So it's a bit of a surprise to find out that Big Freedia was the one who had to reach out to Drake to be included in his In My Feelings video, especially considering the visuals are very much a sendup to the place often referred to as "the Caribbean's northern-most city."
Freedia told TMZ (h/t Complex), "I decided to hit him up myself and was like, 'Why you didn't let me know you were in New Orleans?'"
"And he was like, 'I just got here. Why don't you come through? We're shooting a video tonight. I want you to get a few cameos.' So I did that," she said.
Freedia, ready to seize the opportunity, called her hair and makeup people at midnight to make it to the video shoot at 2:00 am.
G/O Media may get a commission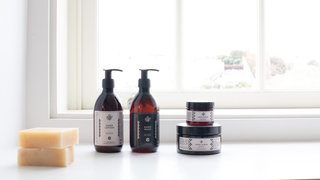 Exfoliate and Hydrate
The Handmade Soap Company
"We hung out until about 6:00 a.m. He didn't want me to get off the mic. He wanted me to rock the mic and the crowd all night," she said.
Freedia viewed her inclusion for the video as a makeup for being left off Nice for What, which prominently featured her vocals in the beginning of the record. While the video featured an array of celebrities, from actresses Tracee Ellis-Ross and Olivia Wilde to The Internet's Syd the Kid and Tiffany Haddish, Freedia was notably absent.
Freedia added that the In My Feelings cameo was a "step in the right direction" in terms of representing LGBTQ artists in hip-hop.
"I think that other artists out there should feel the same way, that no matter what your background is—no matter if you're a gay artist—that we can be able to be there just as anyone else," she said.
Even those unfamiliar with Freedia's music will surely recognize her distinct vocals from Beyoncé's Formation. "I did not come to play with you hoes," she says at the top of the song, laying the foundation for the song's unapologetic and affirming message. "I came to slay bitch."
In a separate interview with The Fader, Freedia elaborated on the importance of "proper recognition and the proper credit" for her music.

"You know, my voice be on a lot of different stuff and people want to use bounce music as a part of their music but when it comes to the proper recognition of me being in the video, that's something that we're steady working towards to make it happen," Freedia told The Fader. "The credits are important but, for me, it's still putting New Orleans on the map and I'm happy with the check."