A Texas parent is furious and says he intends to press charges of excessive force against a Round Rock, Texas, police school resource officer after watching video showing the officer slamming his 14-year-old son to the floor by his throat, KXAN reports. 
"The police officer that was actually in this particular situation, he should have been trained well enough to know that this is a 130-pound child and that the action that was taken was totally unnecessary," Kashka Hughes, father of the Round Rock High School student in question, told the news station last week. 
According to the Round Rock Police Department, on Thursday an altercation broke out between two students in the cafeteria at Round Rock High School. Round Rock police school resource officers were asked by administrators to help with the cafeteria fight because they could not "de-escalate" the situation and "needed police assistance," police said. One of the students involved in the dispute allegedly refused to comply with authorities' commands.
In video that has been going around on social media, two school resource officers can be seen talking to 14-year-old Gyasi Hughes. However, shortly thereafter, one of the officers can be seen grabbing the young teen around his throat and pushing him backward to the floor. 
KXAN reports that the officers say they tried to de-escalate the situation but the student refused to cooperate.
G/O Media may get a commission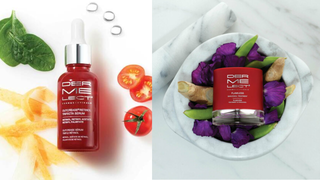 Save $19
Retinol Renewal Kit
"After repeated attempts to calm the noncompliant student and stop him from going after the other student, officers were forced to detain him for his safety and the safety of others," the Police Department said in a statement. 
"I believe if he directly contacted the officer, in terms of like maybe grabbing him, something like that would be understood; at this moment, he was emotional," Hughes said of his son's behavior. "He was not being violent towards the officer, he wasn't hitting him, he didn't have a weapon; he was just emotional, which is mostly understood after being in a conflict just as he was."
The fight was reportedly over some sports goggles. 
"I asked my friend to hold my goggles, and during football, I asked for them back, and he told me repeatedly that he didn't have them and he already gave them back to me," Gyasi, who is a cornerback for his high school football team, told the news station.
"That's when [the other student] started pushing me, pushing me and was like, 'Get away from me,' and finally I pushed him back and I shoved him to the ground," he added.
The teen said an assistant principal separated him and the other boy and took him aside. However, a teacher called the school resource officer to come over. Gyasi said the school resource officer told him to walk away but then grabbed him. 
"As I was walking away, the officer was pushing me in the back, and I was like, 'Why are you pushing me? I'm not doing anything, I'm walking away like you told me to,'" the teen said. "Finally we get, like, in this little corner and [the school resource officer] sitting there yelling at me saying, 'You shouldn't be rude to the [assistant principal], don't talk to her like that.' I was like, 'What are you talking about? I'm not doing anything.'
"I asked [the officer] to leave me alone, and that's the point when he grabbed me and took me down and tried to detain me," Gyasi added. "I was just very upset. I was amped up over the fight and wasn't really thinking."
No one was arrested, but Gyasi said that he is on suspension until Tuesday and also landed two Saturday detentions. The Police Department is also reviewing the situation to make sure "proper procedures were followed," the department acknowledged in a Friday statement. 
"I apologized to the officer," the teen said. "I said I was 'sorry for yelling at you.'"
His father said that he has spoken to his son about how to handle similar situations in the future. "We both said there are different ways you could handle this in the future. I'm sure he'll understand how to talk to a teacher for something so simple as some goggles," Hughes said. "For it to turn into someone like getting grabbed by the throat and slung to the floor is very unfortunate."
Hughes still wants the officer to be retrained, however, and to be disciplined for the use of force. "All of my family are teachers, my mother is a teacher, my father is a principal and was a superintendent for a long time before he retired," he pointed out. "I've definitely seen how the guards [were] in the schools, as well as how my dad handled various situations when kids were in certain altercations."
Read more at KXAN.