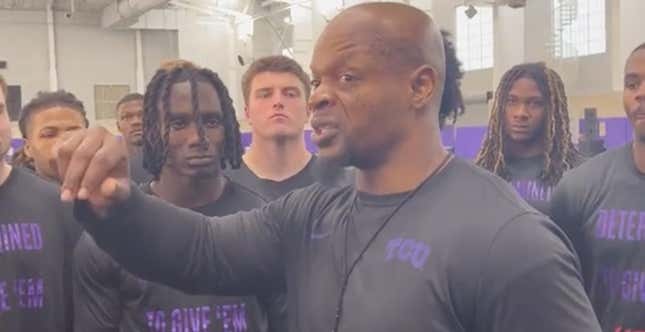 Texas Christian University football had its best football season in program history in 2022. But, what they're doing with their players in the offseason may pay more dividends off the field than anything they are doing on it. While football in many ways is just a kid's game, it can also be used as a tool to teach participants valuable life lessons that they can take with them once they are no longer able to take any more hard hits.
Howard University White Student Sues For "Racial Discrimination"
Kaz Kazadi, who serves as the strength and conditioning coach for the football team, often gives players inspirational and motivational speeches after practice to keep his players on edge. Nothing out of the ordinary for many football coaches. But on Sunday, a video was posted of coach Kazadi giving his players an important lesson on consent and sexual harassment, as colleges start to go on spring break.
During the video, he can be heard saying, "Consent. Remember we went over consent? You're with a young lady, she has to consent to every act. So if you were in the car with her and something went down in the car, that does not mean that something had to go down in the apartment."

He later continued, "If you're in study hall and a trackster (track athlete) walks by you, and she's got tights on and she's going to study. You cannot fucking say, 'Look at that fat ass.' That's sexual fucking harassment."

Listen to the video in its entirety below:
Coach Kazadi's message is one that needs to be spread more often in sports and to men all around the world. Even though consent seems like a simple concept, it's not easy for some people to comprehend. It's all about respect. As seen in the video, Kazadi asked his players how they would feel if someone was speaking to their mother or sister in a disrespectful way. It's important that we see women and all people in the same light.
No, means no. Yes, means yes. It's pretty simple and it's important that more conversations like this are had with young men so they grow up and teach their children better practices than previous generations.