It's a day ending in "y," so there's yet another fraternity that is showing its whole entire (racist) ass to the universe, this time in video form.
On Wednesday, Syracuse University decided to suspend its chapter of Theta Tau after online videos showed members of the frat engaged in behaviors that school Chancellor Kent Syverud described in a campuswide email as "extremely racist, anti-Semitic, homophobic, sexist and hostile to people with disabilities."
Syracuse's independent student newspaper the Daily Orange obtained the offensive videos, which were apparently published in a secret Facebook group called "Tau of Theta Tau."
In one video, a person forces another individual to his knees before asking him to repeat an "oath" rife with offensive slurs.
"I solemnly swear to always have hatred in my heart for niggers, spics and most importantly the fucking kikes," the person on his knees echoed.
G/O Media may get a commission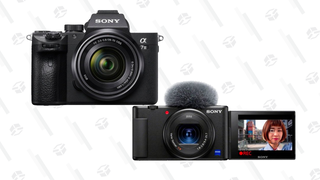 Cyber Monday Deals
Sony Camera Sale
In another video, one person yells at two other people, "You fucking kikes, get in the fucking showers," as others laugh.
Another video shows someone sitting in a rolling chair, only to have another person yell, "He's drooling out of his mouth because he's retarded in a wheelchair."
The university's Department of Public Safety has launched an investigation into the incident in order to identify those involved and take legal and disciplinary action, Syverud said.
"I am appalled and shaken by this and deeply concerned for all members of our community," the chancellor wrote in his email.
Following the revelation, protests broke out on campus, with students demanding that the university release the videos.
"The thing I have been asked most frequently is, 'I'd like to see them myself.' I don't particularly want to be the person who disseminates those videos for complicated reasons, but I'm sure that will happen," Syverud said during a forum that followed up on his email. "I want to say that I am shaken and deeply disturbed by what is on them, as I would hope anyone in the community would be."