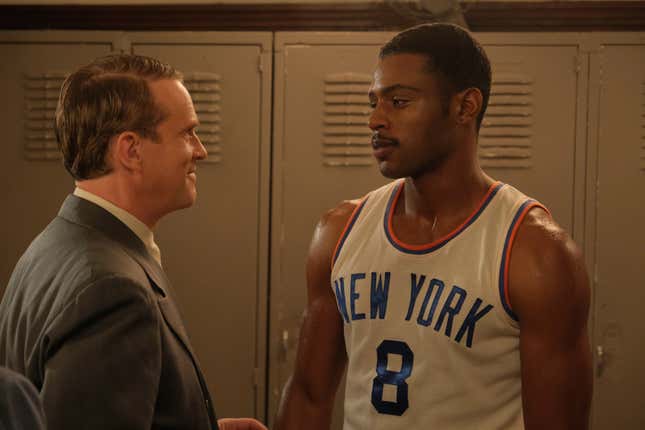 There's always been something special about sports movies. They're uplifting, inspirational and you usually feel really good about the world when they're over. When you find out all those good vibes come from a true story, it makes everything even more entertaining.
White Men Can't Jump Stars Teyana Taylor & Sinqua Walls Play "My Favorite Things"
The new film, Sweetwater, chronicles the story of Nat "Sweetwater" Clifton, the first Black player on the New York Knicks and one of the NBA's first Black players. For basketball fans, it's an interesting look at a part of the game's untold history. Star Everett Osborne spoke to The Root about learning classic basketball and bringing Black History to life.

To embody Sweetwater's story, Osborne had to learn how to play 1950s basketball, which is drastically different from the current day game. He had to focus more on foundational moves and basic basketball mechanics.
"They played totally different so that was such a blast, stepping into that world of basketball, that time and understanding, learning it and just absorbing a new world and playing differently," Osborne told The Root. "So I definitely had to leave my tendency to the side and just step into that new new world of playing basketball."
With Black history literally under attack, stories like this are essential right now. Certain politicians want to pretend like the racism, indignities and violence that Black people have suffered in this country never happened. Of course, we all know that you actually can't erase history, and as Osborne points out, exploring it—especially the bad parts—gives us a better understanding of our current lives.
"We all are are presented with obstacles, we are presented with barriers and systems that try to enslave us. But if you understand how this person went through, and this other person that wasn't even the same race helped him go through it and push through, that it should inspire you, uplift you and help you understand that there's nothing that could stop you," he said. "That's the beautiful thing about understanding history. It helps you not repeat it. Humanity alone comes from this and we can become better and break down barriers, So it's definitely pivotal that this is coming out right now."
Sweetwater, starring Everett Osborne, Cary Elwes, Jeremy Piven, Richard Dreyfuss and Kevin Pollak, hits theaters April 14.