The man accused of shooting and killing Orlando, Fla., Police Lt. Debra Clayton was captured and taken into custody Tuesday after a nine-day manhunt.
Markeith Loyd, 41, was found and captured in an abandoned home in West Orlando at 7 p.m. Tuesday, and the Orlando Sentinel reports that Clayton's handcuffs were used to take him into custody.
Loyd's face was bloodied and beaten, with his eyes and lips swollen, as he was led by more than half a dozen law-enforcement officers into Orlando police headquarters. As he passed nearby cameras, he yelled, "They beat me up! They beat me up!"
According to the Sentinel, Orlando Police Chief John Mina flashed a wide smile as Loyd was led into the building.
"The injuries looked minor to me," Mina said at a press conference. He said that Loyd was getting medical attention for his injuries, and Loyd was later taken to Orlando Regional Medical Center.
G/O Media may get a commission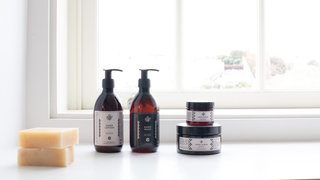 Exfoliate and Hydrate
The Handmade Soap Company
Loyd is accused of fatally shooting his 24-year-old pregnant girlfriend, Sade Dixon, and injuring her brother as he rushed to help her. He is accused of shooting and killing Clayton on Jan. 9 as she tried to apprehend him at an Orlando Wal-Mart shopping center.
A longtime family friend of Clayton's, Jack Williams, told the Sentinel that he was glad Loyd had been caught.
"Honestly speaking, I wanted him to put up a fight so they'd kill him," Williams said. "I will be more at peace once he's been sentenced and put to death because he's a menace to society, and he doesn't need to be living here amongst us.
"Now I pray for a conviction," Williams added.
Loyd currently faces two counts of first-degree murder and two counts of aggravated assault with a firearm in the deaths of Dixon and her unborn child, the Sentinel reports, as well as attempted first-degree murder in the shooting of Dixon's brother, 26-year-old Ronald Stewart. Charges for Clayton's death have not been filed yet.
Loyd's arrest came hours after Mina said he was added to the U.S. Marshals Office's 15 Most Wanted fugitives list.
Mina said that more arrests were coming.
"Anyone who harbored, aided or abetted him in any way is going to be arrested," Mina said. "And we know from our investigation that people did help him."
Mina also said that using Clayton's handcuffs to place Loyd in custody is a "tradition in law enforcement that goes back many years."
"To put her handcuffs on the bad guy … is meaningful to her family and her law-enforcement family," Mina said.
Read more at the Orlando Sentinel.