Sydelle Noel has all the makings of a major female action star: She's athletic, adventurous, has major charisma and is absolutely gorgeous. Oh, and she does all of her own stunts—as a recurring character on the television show Arrow, a Dora Milaje in Marvel's blockbuster Black Panther and, most recognizably, as the formidable Cherry Bang in Netflix's female-wrestling hit, Glow, which debuts its second season on Friday.

Viewers of Glow might remember that when we left the Gorgeous Ladies of Wrestling in season 1, Cherry had departed the wrestling world in favor of a starring role in a TV series. It's a decision that becomes a revealing plot point as we enter season 2, as Noel tells The Glow Up:
This season, you see Cherry go through an emotional roller coaster; you see her be a little bit more vulnerable. ... She finds out that she's not as good at everything [as] she thought she was, so there's a little bit of tough love there.
But still by her side are her Glow girls, old friend and director Sam (played by Marc Maron) and devoted husband Keith (played by Bashir Salahuddin). And once again, it's Cherry and Keith's commitment to each other that provides a sort of emotional stronghold and stability in the often zany world these characters inhabit. As Noel explains, it was a strategic choice on the part of showrunners Liz Flahive and Carly Mensch:
They wanted to show a loving relationship with Cherry and Keith. And I'm so glad, because you don't really see that much black love on television anymore. And the fact that we have a show [where] you have a husband and wife that are in each other's corners—no matter who's making more money, who's working, who's not—just supporting each other and loving each other no matter what is very important. And I'm glad they do show that.
It's a refreshing counterpoint to what could've simply been a stereotypical "strong black woman" character, a role Noel doesn't shy away from, telling us:
I mean, for me, what it means to be a strong, black woman would basically be having the confidence in yourself, no matter how you come across the world. As long as you're truthful to yourself, that's the only thing that matters. And that's what Cherry is—she is who she is, and she doesn't hold anything back.
G/O Media may get a commission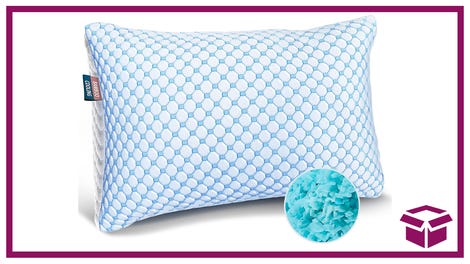 23% off
Nestl Cooling Pillow - Queen Size
Noel doesn't hold back much, either—at least not when it comes to the physicality of her roles. The Hollywood, Fla., native is a former track star who earned a full ride to the University of Georgia and even ran professionally before an injury abruptly changed her career course. Prior to her acting career, she'd only taken a college theater course in search of an "easy A"—though she admits it wasn't that easy.
"My professor was like, 'You should switch your major to theater; you're really good,' she tells us. "And I remember laughing at him, like, 'Theater? Are you serious? I'm an athlete.'"
So when Noel entered the industry as a former athlete, she did so from the ground up, taking acting classes while working behind the scenes for casting directors and on sets, where she learned all aspects of the business. The knowledge she gained would pay off in confidence when it came to auditioning.
For the last decade, Noel has been rising steadily through the ranks, but her work on Glow is opening the door to the more physical roles she craves—and came in handy when she auditioned for a coveted role as a Dora Milaje in Black Panther:
They wanted to see if I could keep up with the physical part of the movie—I had to pretty much learn a bow/staff routine with a bow that I'd never even put in my hand before. I did that and then they were like, "What else can you do?"

I literally showed them everything that I learned on Glow—I showed them all our wrestling moves, and they were fascinated. ... Ryan [Coogler] was like, "So you think you could body-slam me?" I was like, "You want to try it?" And I was about to body-slam Ryan until one of the producers stopped me [because of potential liability] ... I did that, and then, next thing you know, they had me in a fitting.
It's the kind of film credit that can be career-changing—and the type of work Noel hopes to do more of:
I did all my own stunts, which I want to do. My entire goal in this entertainment business is to be an action hero, because literally, I can't really name an African-American female that's an action hero. ... Where do you have one that's constantly being used like the Rock or Charlize Theron? You don't have one that's constantly known as an action hero, and that's my total goal for this entertainment business.
This season of Glow is an ample showcase for Noel's talents, both as an actress and an athletic powerhouse. But while her character remains—in her words—a "badass," Noel is excited to show viewers more dimension to the undeniably strong black woman known as Cherry.
"I want you to see a well-rounded woman," she tells us. "She's a badass, but I want you to see that she also can be loving and she also can be vulnerable. There are so many different qualities to women, and I want people to see all of that in Cherry"