A couple of weeks ago I attended a media screening of Superfly, and I couldn't help paying attention to the fact that so many other people from various media publications had no idea about the original movie. I heard whispers from people who had no point of reference from the original 1972 film, Super Fly, directed by Gordon Parks Jr., and I couldn't decide whether that was good or bad. All I could think to myself was that the next 90 minutes or so should be interesting. And yes, they were, for a multitude of reasons. [Full disclosure: Lodging for this press junket in Los Angeles was provided by Sony Pictures.]
For someone who grew up watching films like Belly and Paid in Full, Director X's Superfly is reminiscent of those drug movies, which moved like music videos and had a soundtrack that moved the movie along. With Trevor Jackson starring as Youngblood Priest, aka Superfly, Director X gives us a young dude caught up in the drug game who's trying to make his way out. The director says that Jackson's perfectly coiffed hair was done in part to pay homage to Super Fly's star, Ron O'Neal. Jackson's character does everything from hand-to-hand combat to taking down dirty cops, all while keeping his pretty face intact, too.
It's a simple story of a man who wants to leave the drug game, set to the backdrop of Atlanta, with a hip-hop soundtrack, cameos and a threesome. But let's break down the movie in simpler terms.
The Good
For those not familiar with Director X, he started out making music videos for people like Jay-Z, Kanye West, Nicki Minaj and Rihanna. So it makes sense for the soundtrack to have some heavy hitters. Featuring music by Future, who co-produced the movie, and artists like Lil Wayne, Miguel, 21 Savage and H.E.R., if nothing else, Superfly's soundtrack will hold your attention. Not only does the music move with the pace of the film, but it also gives it that music-video vibe.
G/O Media may get a commission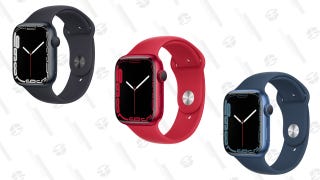 Up To $45 Off
Apple Watch Series 7
As for the plot, I didn't go into the movie looking for something realistic. I mean, how many hustlers actually meet their Mexican-drug-cartel supplier? It's a fantasy movie, for sure, and one that kept the audience captivated with laughs and gasps when Priest and his partner Eddie (Jason Mitchell) were on-screen together. The two actors' chemistry is what makes the movie work the most, and with both of their careers on the rise, I wouldn't mind seeing them in another movie together.
As for reinventing the blaxploitation flick, there are some elements I'm glad Director X kept out. We all know the original Super Fly was known for getting high off his own supply, but you won't find that in this film. And as for Priest being a two-timing dude, he's comfortably living the life in a polyamorous situation. Yes, he has two women (Lex Scott Davis as Georgia and Andrea Londo as Cynthia), and they all have each other. No drama.
The Bad
With any type of remake, or film in general, there are always going to be some flaws. This movie definitely isn't perfect, and some of that falls on the other cast members. Outside of Jackson, Mitchell, Davis and Michael K. Williams, who plays Priest's drug mentor, the subpar acting from the other cast members leaves a lot to be desired.
The Ugly
There's nothing glorious about the drug game. I wouldn't say Superfly glamorizes it, but when it comes to reality, we all know how these drug dealers' lives typically end. It's either death or jail. Most aren't sailing on a yacht in Montenegro after they get out of the drug game.
Sure, it's a movie built for entertaining people, but let's not act as if there aren't young people out there who think the drug game is an ideal career path. Also, I could have gone my whole life without seeing a kid I know from The Lion King (Jackson) butt-ass naked in a shower in a threesome.
Superfly opens in theaters June 13.