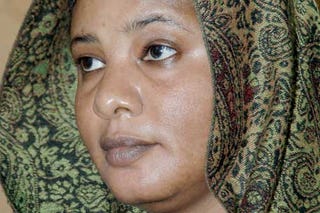 Lubna Ahmed al-Hussein wore trousers in an effort to challenge Sudan's decency laws.
Authorities toss her in jail and threatened her with a penalty of forty lashes for her flouting of the nation's laws. A Khartoum judge thought the forty lashes was a bit over the top and told her to pay the $200 fine or spend a month in jail.
Al-Hussein was not prepared to flinch. But Sudan's journalists' union was. From Al Jazeera:
Lubna Ahmed al-Hussein, who had been found guilty of flouting the country's decency laws, said after being released on Tuesday that the fine had been paid without her permission.

"I am not happy. I told all my friends and family not to pay the fine," she said.

Al-Hussein refused to pay, preferring to go to jail as a means of challenging Sudan's public order act.

Al-Hussein, a former reporter working for the United Nations at the time of her arrest, said she believed there had been political pressure to free her and bring an end to the case, which has brought attention from media and rights organisations worldwide.

Mohieddin Titawi, the chairman of the journalists' union, said his group had paid the fine because it had a responsibility to "protect journalists when they are in prison".