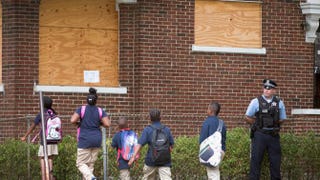 According to a new study, only half of young black people expect to live past age 35, the Huffington Post reports.
On Monday the American Sociological Association and the Journal of Health and Social Behavior released the study (pdf), which asked more than 17,000 young people to predict their longevity.
According to the Huffington Post, two out of three whites were optimistic about living past 35, compared with just 50 percent of young blacks. Some Hispanic groups were more pessimistic. Only 46 percent of U.S.-born Mexican Americans believe that they'll reach 35. It drops to 38 percent for Mexican-born immigrants.
"We're attributing this [pessimism] to structural disadvantages, exposure to neighborhood poverty and family poverty, exposure to violence," said Tara Warner, a co-author of the study. "We also discuss in the paper experiences with the criminal justice system, experiences or expectations with police violence."
Warner told the Huffington Post that the survey has been conducted since 1994 but is "the first to look at the survival expectations differently by race, ethnicity and nativity." 
The researchers said that 57 percent of the participants were white and 23 percent black. The remaining 20 percent were Hispanics and Asians of various ethnicities and immigration statuses.
Read more at the Huffington Post.