Stew chuckled last week when I started our interview with the old war horse question, "What motivated the new work?"
It's not an original question. Every journalist from a cub reporter at a high school paper to a Pulitzer Prize winner has it in their arsenal, but for Stew it seems entirely appropriate, maybe too appropriate. Consider the background.
Five years ago, Stew (née Mark Stewart) was one of those famous-to-a-few "cult" artists. He had built a loyal following for his cantankerous songs with his rock group, The Negro Problem, and for his more melodic (one critic called it Blackarach) pop songs under the name Stew.
Then he and his songwriting and relationship partner, Heidi Rodewald, created a semi-autobiographical musical called Passing Strange about Stew's adolescent and early adult life as a black outcast in Los Angeles and Amsterdam and Berlin. In content and tone, the musical wasn't radically different from his previous music, but its success was overwhelming.
The musical was a hit at the Public Theater in New York. Then it was a hit on Broadway. It won a Tony Award. Spike Lee directed a concert film from one of the performances. Passing Strange is widely recognized as one of the most innovative examples of post-millennial theater (not post-millennial African-American theater, just post millennial theater, period). He was no longer famous to a few.
G/O Media may get a commission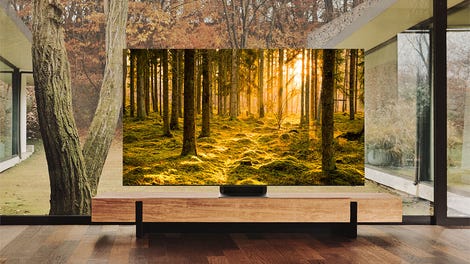 Up to 40% off
Samsung Smart TVs
However, things were more complicated by then. Stew and Heidi broke up as a couple as Passing Strange headed toward Broadway. Being successful on Broadway isn't in the dreams of many indie rockers, and it took some getting used to. And even though Stew was a seasoned performer, doing eight shows a week was more than a little exhausting. Stew had entered that aging hipster phase, well past 40, which brought another set of anxieties.
The new work, Making It, is a song cycle about all that and more, and it premieres this week at St. Ann's Warehouse in Brooklyn. And Making It is why Stew is taking phone calls from journalists and getting a smile from the questions.
"It was a way of answering some questions," he said of those motivations. "How do you move forward with deep wounds? What is like to go to a club together and watch her leave with someone else?"
He paused for a breath. "If we were both janitors [instead of performing musicians], this would be probably be a lot less complicated."
Stew is very affable; we spoke for half an hour on the phone, but within 15 minutes he was talking like an old friend. It's probably not just a front he uses for the press; a friend of mine who saw Passing Strange at the Public Theater, then encountered Stew afterward at a bar and they talked into the night about being black and living in Europe in the '80s.
"I have a girlfriend now, but I know Heidi and I both still have that tinge," he said of his relationship partner of more than 10 years.
After Passing Strange closed on Broadway, Stew went to Berlin to decompress; and he began writing new songs about the aftermath. When he showed the songs to Rodewald, she was not pleased. "She was pissed off, but that's how things are. Everybody is right or nobody is right. After a while, it [the anger] fizzles."
They worked on the material together and had an evening's length performance that they liked. Then they arrived at St. Ann's and realized that their deeply personal music had one more barrier, an audience. "I don't think either of us was thinking about the fact that we would have to share all this with a bunch of strangers," he said with a now familiar chuckle.
But Stew did think about expectations. This is his first major work since Passing Strange and the follow-up to such a landmark comes with its own set of pressures. Or does it? "We laugh at other people's expectations," he said. "Most people know us for one four-year project; we've been making music for more than 20 years!
He credits the attitude to age. "A lot of things that would faze me at 22 don't affect me at all now." This isn't to say that Stew is deliberately oblivious to his success. He hopes that this work paves the way for other stories. "We have so many stories that need to be told."
He decries the focus on up-from-the-ghetto stories. "Those are all valid, but we have so many other stories to tell. Get your blog on. Get an HD video camera and post stuff to YouTube. Make it happen; it needs to happen."
Martin Johnson is a regular contributor to The Root. Follow him on Twitter.
Martin Johnson writes about music for the Wall Street Journal, basketball for Slate and beer for Eater, and he blogs at both the Joy of Cheese and Rotations. Follow him on Twitter.