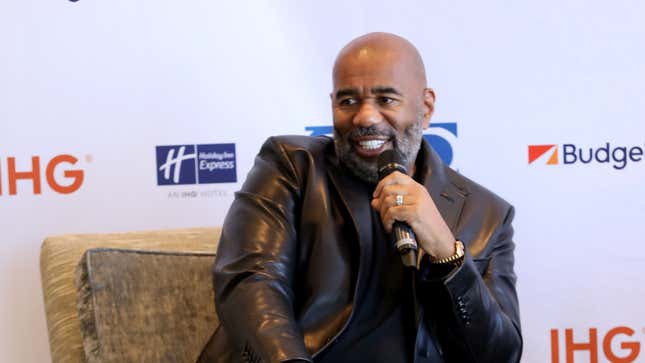 Wake up! We got some more Steve Harvey news.
The 62-year-old zoot suit enthusiast has had a hell of a past few weeks, having not only lost his daytime talk show but his additional gig on NBC's Little Big Shots. Naturally, I'm wondering if the survey will name Family Feud as Steve's third strike. We'll see. That would be huge, if so.
Tackling A Black Maternal Health Crisis & Embracing Reproductive Justice | The Root Institute
According to Rob Shuter's Straight Shuter podcast, Steve has completely moved on from his losses, though—and I mean, completely. As in, he has allegedly left his staff out to dry. A source told Shuter that hosts typically take out staff for some sort of wrap party as a final thank-you or farewell, but Steve reportedly hasn't so much as sent an email or made a phone call.
"Steve is the King of being not grateful. He filmed his last show on Thursday and by Friday he had already moved on," a source told the podcast.
In addition to lying through his titanic teeth about lack of sleep being the answer to wealth acquisition, Harvey has had quite the reputation in regards to his work behavior. As Senior Writer Michael Harriot noted, "This 'man of the people' once told his employees not to approach him at work because—as their employer—he didn't have time for their bullshit."
"Steve didn't know many of his staff's names, so he didn't have many to forget," the source continued. "The few staff who have his email and contact number have already been deleted and the one or two farewell notes he received were not returned."
Well, given his recent career trajectory, it looks like Steve has much more time to catch up on the amount of sleep he lost after attempting to keep up with the insomniac Joneses. So, maybe he just had his phone on "Do Not Disturb." Right?!
The Root has reached out to Steve's team for comment.