From Roseanne Barr to R. Kelly, check out the celebrities who performed the worst renditions of the national anthem. Full of pride, but short of pipes. Even Jennifer Hudson makes the list!
CARL LEWIS
Retired track and field man Carl Lewis may have won 10 Olympic medals, but he won't be winning awards for his singing anytime soon. His 1993 rendition of the national anthem is notorious—bad from beginning to end. Lewis not only misses every high note, his screeching is so disturbing that it's barely discernible from the audience's boos. Take a listen.
NEXT: Cuba Gooding Sr.
Singer—and we use that word loosely—Cuba Gooding Sr. overshot with his ultra high-pitched rendition of the anthem. The performance was so disturbing that one bold YouTuber claimed he pulled a "Carl Lewis." Ouch! But, seriously, Cuba—this wasn't your shining glory!
G/O Media may get a commission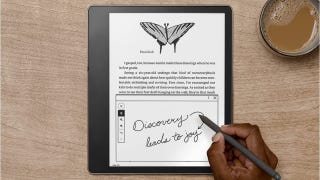 Releases November 30
Borrowing the display from the much-beloved Paperwhite, this screen provides a glare-free experience both indoors and outdoors so you can read by the pool or on the beach on a sunny day. New to this model is the inclusion of a pen. Take notes directly on the pages as you might in a traditional book, but the notes are automatically organized by title in a single place–letting you review and export them with ease.
NEXT: Roseanne Barr
This Star Spangled Blooper is an obvious one. Roseanne Barr should never, ever have been called on to belt out the national anthem. Was this 1990 rendition a joke? If so, our ears are certainly not laughing.
NEXT: Jerry Stackhouse
Props to Mavericks shooting guard and small forward Jerry Stackhouse for introducing his own game by singing "The Star Spangled Banner." We commend him for blowing his pipes before huffing and puffing across the court, but the expressionless face he presented throughout the performance did little to inspire pride of the country.
NEXT: R. Kelly
Kels may be the (Questionable) King of R&B, but he still loses points for this ringside rendition of the "Star Spangled Banner." It's not his caliber of singing that makes us cringe; it's the "Up in the Club" spin that he added, complete with a call to the audience to start clapping and bouncing along. It's the anthem, Kels—just keep it simple.
NEXT: Jennifer Hudson
There's no denying that American Idol Jennifer Hudson has a strong set of pipes, but we can't figure why she didn't use them. During one of many renditions of the "Star Spangled Banner" that J-Hud delivered, she performed the song with a pre-recorded track. Why lip-synch the national anthem when you can actually sing?
NEXT: Keyshia Cole
As much as we love singer Keyshia Cole's 'round-the-way sensibilities, she should have known better than to attempt the national anthem. Her pipes were teetering on collapse by the time she reached the bridge, but the audience, for some reason, ate up the performance. Maybe it was her soulful expression or her fly outfit that did the trick.
NEXT: Miley Cyrus
As if world domination weren't enough, Miley Cyrus, dressed as her alter-ego Hannah Montana, preps her vocal chords pre-performance with a slow take on the anthem. Maybe it was the acoustics that worked against her, but somehow "bangled banner" came out terribly mangled. Here's hoping Hannah's onstage performance was better than this backstage rendition.
NEXT: Marvin Gaye
And despite R. Kelly's results, not all anthem remixes go awry. R&B legend Marvin Gaye opted out of the classic rendition of the "Star Spangled Banner" and, instead, lended his soulful style to his performance at the 1983 NBA All-Star Game. Show them how it's done, Marvin!
NEXT: Whitney Houston
But not every anthem attempt is a blunder. Whitney Houston carried this tune with confidence. Go 'head, Whitney!
Saaret Yoseph is a writer and Assistant Editor at TheRoot.com. She manages and blogs for \"Their Eyes Were Watching …\"