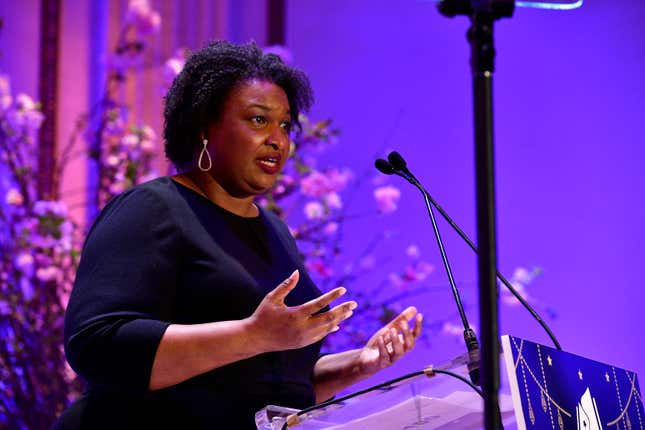 Stacey Abrams, a two-time Georgia gubernatorial candidate, author, and political activist, is a well-known figure to The Root's audience—and now she's forging a new path. On Wednesday, Howard University announced that Abrams will be joining the historically Black university faculty.
Howard University White Student Sues For "Racial Discrimination"
Abrams is being appointed to HBCU's Inaugural Ronald W. Walters Endowed Chair for Race and Black Politics. She is expected to begin her new multiyear role in September.
"I am honored to serve as the inaugural Ronald W. Walters Endowed Chair for Race and Black Politics, having had the privilege of knowing and learning from Dr. Walters," said Abrams, 49. "We are at an inflection point for American and international democracy, and I look forward to engaging Howard University's extraordinary students in a conversation about where they can influence, shape and direct the critical public policy decisions we face."
For those who don't know, Ronald W. Walters was a well-renowned scholar and activist who taught at the University for 25 years. Walters organized one of the country's first lunch counter sit-ins in his hometown of Wichita, Kan., and led the local youth chapter of the NAACP. Walters went on to chair the Political Science Department at Howard for nine years. The fact that Abrams, a well-known activist and politician, is taking up Walter's mantle is a fitting tribute.
So what exactly will she be doing as chair of this brand new position? This press release from Howard has the answer:
"In this role, Abrams will foster interdisciplinary collaborations across the University on critical issues of race and Black politics, especially those issues that affect Americans of the African diaspora. The chair will inspire research and encourage broad discussions of scholarship for real-world solutions to complex, seemingly insoluble societal problems that adversely affect African diasporic communities and other vulnerable populations. Finally, as the inaugural chair, Abrams will lead a vibrant Ronald W. Walters Speakers Series with invited guests on a range of topics representing diverse perspectives."
Abrams, who previously served as a professor at her alma mater, Spelman College, is apparently not closing off a future in politics. But it'll be interesting to watch what she does during her time at Howard.