As protests over the acquittal of former Police Officer Jason Stockley continued throughout the city of St. Louis, the Board of Aldermen on Friday voted unanimously to approve a resolution honoring the man he killed in 2011: Anthony Lamar Smith.
The St. Louis Post-Dispatch reports that on the same day, St. Louis Mayor Lyda Krewson pledged to strengthen the city's Civilian Oversight Board, which is responsible for investigating complaints against the police.
Police in the city responded with outrage to both announcements, and accused city leaders of bowing to the pressure of civil unrest throughout the city.
The resolution has the names of all 28 aldermen listed and says that Smith's Dec. 20, 2011, death at the hands of Stockley has led to a "universal cry for justice and accountability throughout the city." It highlights Smith's accomplishments in sports and mentions his love of art and his desire to become a clothing designer.
The resolution calls for a memorial copy to be prepared to be presented at another time.
G/O Media may get a commission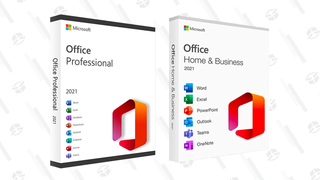 89% off
Microsoft Office Professional 2021 Lifetime License
Smith's mother, Annie, was present for the reading of the resolution, which was introduced by Alderman John Collins-Muhammad, who said that the board acted in part to help ease Annie Smith's grief.
"His mother had to wait six years for justice, which she still did not get," Collins-Muhammad said. "So I invited her here today to let her know the city of St. Louis and the Board of Aldermen shares her pain, her frustration and her deep dissatisfaction with the turnout of everything that has happened."
Jeff Roorda, who is the business manager of the St. Louis Police Officers Association, was unhappy with the resolution and said that it unfairly portrays Smith as a hero and amounts to a slap in the face for city cops.
"To see them honoring a person who tried to take a cop's life is appalling," Roorda said. "I've never, ever gotten this many calls and texts about anything the political class has done. My officers are furious about this."
(Yes, because this is more of a slap in the face than the fact that an officer who was heard on tape saying he was going to kill Smith and then proceeded to do it got away with what basically amounts to murder.)
Roorda was also critical of Mayor Krewson, saying, "You've got yourself a go-it-alone mayor who thinks she can fix law enforcement without talking to law enforcement and who thinks police are the problem in a case where a convicted felon who absconded from parole and was in possession of a firearm and heroin tried to kill a police officer."
Stockley was found not guilty on Sept. 15 by St. Louis Circuit Judge Timothy Wilson, who said in his ruling, "This court, in conscience, cannot say that the state has proven every element of murder beyond a reasonable doubt, or that the state has proven beyond a reasonable doubt that the defendant did not act in self-defense."
Stockley shot Smith after a vehicle pursuit and claimed self-defense, saying that Smith had a weapon. The weapon reportedly found in Smith's car, strangely enough, had only Stockley's DNA on it and not Smith's.
Read more at the St. Louis Post-Dispatch.