A St. Louis mother is demanding answers after a local news station showed her a photo of a police officer giving a thumbs-up over her dead son's body.
Kim Staton learned that her 28-year-old son, Omar Raham, was found dead in his Pine Lawn, Mo., home Aug. 8. The medical examiner ruled Raham's death an accidental drug overdose, according to KMOV-TV, but Staton says she has not heard from police since his death that day.
"I really don't know, actually, what happened to my son," Staton said to the station.
KMOV-TV in St. Louis showed Stanton a blurred cop's face as he bent down, smirking, next to Raham's body, also blurred. The unidentified cop of the North County Police Cooperative was also holding his hand with blue gloves and signaling a thumbs-up to the camera.
Staton's attorney, Antonio Romanucci, calls it "hideous."
"The implications of this photograph are just astronomical," he told the station.
G/O Media may get a commission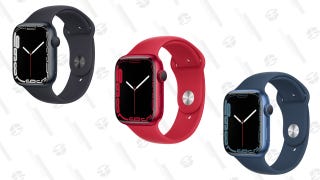 Up To $45 Off
Apple Watch Series 7
The grieving mother said that she could not believe the officer's actions.
"When they come to a call, they're supposed to be there to help and protect, not doing what he was doing with thumbs-up and a smirk on his face," she said.
North County Police Cooperative Chief Tim Swope said that the department was conducting an investigation, but declined to see the photo of his officer and the body.
"I'm looking for some answers," Staton said.
Read more at KMOV-TV.