The Atlantic Launches P.R. Blitz for Ta-Nehisi Coates
"On Wednesday night, The Atlantic posted the cover story for its June 2014 print issue: Ta-Nehisi Coates' 'The Case for Reparations,' " Edirin Oputu wrote Friday for Columbia Journalism Review. "A vast, multimedia, multi-chapter story in the vein of Nikole Hannah-Jones' recent investigation into the resegregation of America's schools, 'The Case for Reparations' examines the country's legacy of slavery and discrimination and its continuing effect on African Americans.
"And a person would have to be far outside the media bubble to be unaware of its appearance — The Atlantic has been promoting it vigorously for more than a week before it went live via its own video trailer. Coates has also been making the rounds, speaking to Bill Moyers, among others.
"The Atlantic's senior director of communications, Anna Bross, said the media rollout was carefully orchestrated.
" 'This cover is really a moment in history for The Atlantic,' she said. 'We certainly worked far in advance to start talking to press outside our organization about this cover, and lining up interviews,' she said, 'in order for Ta-Nehisi to talk about this reporting and this piece that he did.' Coates spent two years reporting the 16,000-word piece, and Bross said The Atlantic's publicity team focused on programs where he would have the chance to have lengthy, in-depth conversations about his work. In addition to the interview with Moyers, Coates is also scheduled to make appearances on NPR's All Things Considered and MSNBC, as well as multiple industry-focused panels. . . . .
" 'Reparations' was on track Thursday set a new single-day traffic record on The Atlantic's website, she added. . . ."
G/O Media may get a commission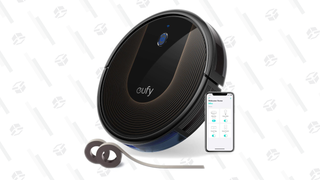 48% Off
Eufy BoostIQ RoboVac
Wayne Bennett, the Field Negro: A change of heart about reparations.

Jamelle Bouie, Slate: Reparations Are Owed

Audie Cornish, NPR: 'The Atlantic's' Ta-Nehisi Coates Builds 'A Case For Reparations'

Michelle Dean, Gawker: Ta-Nehisi Coates's Essay on Reparations Is A Heartbreaker

Gene Demby, NPR "Code Switch": How To Tell Who Hasn't Read The New 'Atlantic' Cover Story

Abby Ohlheiser, thewire.com: You Should Read 'The Case for Reparations'

Don Rojas, the Nation: Will the Caribbean Reparations Initiative Inspire a Revitalization of the US Movement?

Alyssa Rosenberg, Washington Post: Culture change and Ta-Nehisi Coates's 'The Case For Reparations'

Matthew Yglesias, vox.com: Slavery reparations are workable and affordable
Bob Herbert, Former N.Y. Times Columnist, Returning to TV
Bob Herbert, columnist for the New York Times over 18 years, and an NBC News correspondent from 1991 to 1993, is returning to television.
Beginning June 2, Herbert, now a distinguished senior fellow at Demos, a research and policy center in New York, is starting a weekly interview show for CUNY TV, based at the City University of New York. "Bob Herbert's OP-ED TV" will be broadcast in New York, but will be posted online the same day on the CUNY TV website, spokesman Michael Shepley told Journal-isms.
Herbert said in a news release, "Our interviews will be with significant officeholders, and activists, economists, labor leaders, writers and artists about compelling contemporary issues. Our topics will include the plight of the unemployed and the poor, criminal justice, race issues, and new developments in journalism, literature and the arts. The primary focus of each program will be the ways in which a particular topic affects the lives of real people."
Herbert was the first African American op-ed columnist at the Times, where he worked from 1993 to 2011.
In his final Times column, he wrote, "Overwhelming imbalances in wealth and income inevitably result in enormous imbalances of political power. So the corporations and the very wealthy continue to do well. The employment crisis never gets addressed. The wars never end. And nation-building never gets a foothold here at home.
"New ideas and new leadership have seldom been more urgently needed. . . ."
Hampton U. Given $245,000 for Pilot Program in Digital Media
The Scripps Howard School of Journalism and Communications at Hampton University is receiving $245,000 in funding from the John S. and James L. Knight Foundation to create a pilot program for a Center for Innovation in Digital Media, the foundation announced on Thursday.
Dean Brett A. Pulley wrote, "We are designing the center to attract students from across disciplines, bringing together creative minds from disciplines such as computer science, business and journalism. Together, they can learn about how their disciplines increasingly intersect in the marketplace, and, moreover, they can work together to create products, conduct media research and help solve problems faced by today's major media companies.
"The pilot is only the beginning. My mission is to raise $5 million for a fully funded center, which could be housed on one of the top floors of a recently acquired, modern university building that overlooks the city of Hampton. In addition to being a place where new products and ideas take shape, the Center for Digital Media Innovation at Hampton University will become a critical outlet for teaching and training young people to succeed in the world of digital information, and helping traditional media entities to not only survive, but flourish into the future."
Univision to Air Documentary on Chavez Hunger Strike
In a U.S. television premiere, Univision is presenting 'La Última Huelga,' the Spanish-language version of the documentary film 'Cesar's Last Fast," the Spanish-language network announced Thursday. "The English-language documentary, which debuted this year at Sundance Film Festival, is to be simulcast in English on the Pivot cable TV network as part of a content alliance between Univision News and Participant Media.
"The most important Latino community activist in the history of the United States, Cesar Chavez became an icon of freedom and justice during his lifelong fight for the civil rights of American farm workers. Using never-before-seen footage of Chavez and testimonies of those closest to him, 'Cesar's Last Fast' focuses on Chavez's last and most difficult act of protest, the 36-day water-only hunger strike he completed in 1988, at age 61, to raise awareness about the horrific effects of pesticides on farm workers, their families and their communities. . . ."
La Última Huelga airs Saturday at 7 p.m. ET/PT (6 p.m. Central). After its broadcast premiere, it is to be available for viewing on UVideos.com and the UVideos iOS and Android apps, the network said.
BET News Special Focuses on Human Trafficking
"On the heels of the global call to action in the search of nearly 300 teenage Nigerian girls who were kidnapped from their school in April, BET News presents Stolen Innocence: Your Daughters Are Our Daughters, an in-depth televised discussion led by Lola Ogunnaike of Arise TV and Marc Lamont Hill of BET News," BET announced this week.
The program debuted on Friday on the main BET channel and is to be repeated Saturday at 10 p.m. ET/7 p.m. PT on Centric, and on Sunday at 11 a.m. and 11 p.m. ET/PT on BET.
"The one-hour town hall forum will focus on the human trafficking crisis that is hitting communities across the world. Panelists include actress Nicole Ari Parker, actress Tasha Smith, attorney Ony Nwaohuocha, President/CEO American Nigerian International Chamber of Commerce Emelia Orubele, journalist Omoyele Sowore, director at Wellspring Living Temeka Weatherly and founder of Bridget's Dream Leah Albright-Byrd.
"The case hits home for Americans — in Georgia specifically — where the Hartsfield-Jackson [Atlanta International] Airport, one of the largest and busiest airports in the world, has been named for smuggling people into the world of human trafficking. In Atlanta, where Stolen Innocence was taped, human trafficking has reportedly become a $290 million business, according to the Urban Institute. . . ."
Stanley Crouch, Daily News, New York: Women stand up for Nigeria's lost girls (May 12)

Julianne Malveaux, National Newspaper Publishers Association: A Slow Response to Nigerian Atrocity (May 12)

Askia Muhammad, Washington Informer: Boko Haram, a Creation of the CIA? Of Course (May 14)

Hannatu Musawa, Sahara Reporters: #BringBackOurGirls (Week 4) (May 16)

Edirin Oputu, Columbia Journalism Review: Nigerian journalists are struggling to cover #BringBackOurGirls (May 14)

Clarence Page, Chicago Tribune: Nigerian leaders tried to sweep schoolgirl crisis under a rug (May 11)

Leonard Pitts Jr., Miami Herald: Partisan gap even extends to tragedy of Nigerian girls' abduction (May 17)
Rubén Rosario, Pioneer Press, St. Paul: In Nigerian kidnappers, a glimpse of festering evil (May 11)

Mary Sanchez, Kansas City Star: What we can do for the kidnapped Nigerian girls (May 12)
DeWayne Wickham, USA Today: Target Boko Haram chief with drone (May 13)
Coup in Thailand Includes Vigorous Crackdown on Media
"Television screens went blue and up flashed the army's emblem, normal programming stopped and Thailand held its breath," Amy Sawitta Lefevre reported Friday for Reuters. "For anyone looking forward to their favourite show, it was going to be a long wait.
"Half-an-hour later — around 4:30 p.m. on Thursday — army chief General Prayuth Chan-ocha appeared on all channels and said the army was taking control of government so Thailand could 'be at peace again'.
"One of the first actions taken by the generals now running the country was to impose sweeping censorship across the media.
"The crackdown on the media appeared to be more vigorous than after the last of Thailand's frequent coups, in 2006, perhaps, according to some observers, due to greater opposition to the army's action and a more defiant 'blogosphere' online. . . . "
"A while back, NBC announced that it was starting a series called 'Meeting America' — steering the Sunday chat show away from the tired pundit/politico roundtables to show how actual citizens are affected by Beltway policy fights," Peter Hart wrote Tuesday for Fairness & Accuracy In Reporting. Hart also wrote, "The three installments that have aired to date focus primarily on small-town white Republicans. . . ."

"The Huffington Post has reshuffled its masthead, replacing managing editor Jimmy Soni with national editor Kate Palmer," Jeremy Barr reported Wednesday for capitalnewyork.com. "Soni will leave the No. 3 editorial position and head to India, where The Huffington Post plans to launch a new edition. . . ."

"Fusion's Jorge Ramos has been turned down for an interview so many times by Speaker John Boehner, he decided to fly to Washington, DC to get in front of the Republican leader," Jordan Chariton wrote Thursday for TVNewser. " 'What does Obamacare have to do with immigration reform?' Ramos asked Boehner after the Speaker cited the healthcare law as an impediment to passing immigration reform. Speaker Boehner responded that there's nobody more interested in immigration reform than him. 'You can do it, Mr. Speaker. You can do it, and you really haven't done it,' Ramos continued. 'I appreciate your opinion, thank you,' Boehner responded before moving onto a different reporter. . . ."

"Snap Judgment, the hourlong themed storytelling show distributed by NPR and Public Radio Exchange, has signed a first-look TV development deal with Kapital Entertainment," Current.org reported on Thursday. It quoted host Glynn Washington, "We are thrilled to join forces with Aaron Kaplan, one of the savviest minds in Hollywood, to bring Snap Judgment storytelling to the small screen."
This columnist discussed NPR's cancellation of "Tell Me More" on Wednesday on the Soul of the South network's "D.C. Breakdown" (which aired Friday); with Rob Redding of Redding News Review on Thursday (audio) and with NPR's Keith Woods and host Roland Martin in the studio Friday on TV One's "NewsOne Now." Allison Davis of the National Association of Black Journalists appeared via remote (audio). Meanwhile, freelance writer Angela Washeck offered "3 Lessons From NPR's Decision to Cut 'Tell Me More' " and human rights lawyer Arsalan Iftikhar, a regular on the show's "Barbershop" segment, interviewed several media figures disappointed with the cancellation. His essay, headlined, "The unbearable whiteness of National Public Radio," quoted Washington Post columnist Eugene Robinson; former Republican National Committee Chairman Michael Steele; NPR television critic Eric Deggans; Wall Street Journal columnist Jeff Yang; National Review contributor Neil Minkoff; Republican strategist Lenny McAllister; Christopher Ave, political and national editor at the St. Louis Post-Dispatch; Dave Zirin of the Nation magazine; and sports journalist Kevin Blackistone.

"We've all had those moments where we're internally torn when observing others doing heinous things next to us," Jordan Chariton reported on Thursday for TVNewser. " 'Should I mind my own business or do something?' you ask yourself. For ABC's 'What Would You Do?' host John Quiñones, seeing more people choose the latter has lifted his spirits. 'My faith in humanity is restored in every one of our scenarios,' Quiñones told TVNewser in an interview earlier this week ahead of the hidden-camera show's return to ABC tonight at 9pmET. . . ."

With 33 days to go, journalists Danyel Smith, formerly of Billboard, Vibe and Time Inc., and Elliott Wilson, who has worked at RapRadar.com, CRWN and XXL, Smith's husband, by early Saturday had raised $10,397 toward their $30,000 goal to fund HRDCVR, a hardcover culture magazine. "we shut down the HRDCVR Kickstater and launched a new HRDCVR Kickstarter and: today, in just 6 hours, we raised almost half of what it took us two weeks to accomplish with the first campaign," they emailed Thursday to friends and supporters. Interview.

A recent New York Times article about a Federal Communications Commission vote on net neutrality "has brought many protests from readers, and from outside commenters, who say the new development was presented in a misleading way, one far too accepting of the perspective of the F.C.C. and its chairman, Tom Wheeler, who has spoken in support of the proposal," Margaret Sullivan, the Times public editor, wrote on Thursday. Sullivan agreed. "My take: I'm with the critics on this one," she wrote.

In Zimbabwe, "Legislator Joseph Chinotimba has threatened to name and shame journalists who demand bribes from him for media coverage, saying the rot was rife in both the public and privately owned media," NewZimbabwe.com reported on Wednesday. Chinotimba said, "You are busy reporting in your papers that Minister so and so is corrupt while not reporting the corruption happening within your profession by some of you. I want to be covered in my constituency I am told to provide for transport and food for the journalists. They say they want $2,000 from me for them to cover my constituency. . . ."

In Somalia, authorities arrested journalist Mohamed Qassim Ahmed Monday, saying he admitted to working for al Shabaab's Radio Andalus between 2009 and 2010, the Sabahi website, sponsored by the United States Africa Command, reported Thursday. Ahmed was said to have joined al-Shabaab's media production arm al-Kataib in 2011. Al Shabaab is an Islamist militant group battling the U.N.-backed government. Ahmed and an accomplice, who died after jumping out of the window of a security forces vehicle, are accused of taking part in the killing of two lawmakers.

Follow Richard Prince on Twitter.
Facebook users: Like "Richard Prince's Journal-isms" on Facebook.

Journal-isms is published on the site of the Maynard Institute for Journalism Education (mije.org). Reprinted on The Root by permission