There are literally too many things to go to in the fall. During that season in New York City, every charity group, institution, media company and rando (including The Root) throws a ball, gala or fancy party of some kind. Our own shindig, The Root 100, goes down Nov. 9.
So October, for me, has been filled with parties both small—like Facebook Marketplace's Halloween-themed soiree at Gary's Loft downtown—and gigantic, like the Harlem School of the Arts Masquerade Ball, held at the legendary Plaza Hotel, which honored R&B great Mary J. Blige.
For weeks now, I've been running this party circuit, making a point not to turn down anything I get invited to, and needless to say, by the time I got to Jezebel's 10th-anniversary party at the Well in Brooklyn, I was pretty out of it. It didn't help that I was just fresh from yet another gala, the "Building Academic Excellence in the Bronx and Stamford" benefit for Excellence Community Schools, and just wanted to sleep. But I stayed there an hour anyway, enjoying a random Zazie Beetz-getting-her-life-on sighting and wondering what my life had become as I was out after work hitting the party scene for the fifth night in a row.
Short version: Welcome to Antisocial, the society-and-events column for people who are terrified of both. I look so terrible, guys. So bad that I don't have bags under my eyes—I have luggage. Like, the big kind made out of hard plastic, with an extended handle and wheels. I'm just dragging my saggy eyes behind me, as if we're in the airport heading for a red-eye. Thank goodness for the rainy weekend, when I was able to do some catch-up and rest-up; otherwise I have no clue how I'd get through this week, which is full of ... you guessed it ... even more things to do.
The 23rd Annual Black Tie & Sneakers Gala Benefiting the Arthur Ashe Institute for Urban Health
G/O Media may get a commission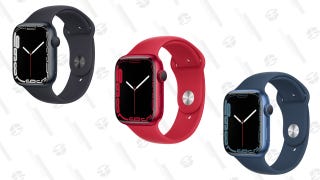 Up To $45 Off
Apple Watch Series 7
The best thing about the Black Tie & Sneakers Gala (aka "the SportsBall") is that it benefits a worthy cause, the Arthur Ashe Institute for Urban Health, which does everything for the health and wellness of people—particularly people of color. One standout program includes an HIV/AIDS-awareness campaign through which barbers and stylists are trained to talk to their clients about sexual health.

The second-best thing is that you get free sneakers with your swag bag.
This year they were Adidas.
Taking place Oct. 18 at the Grand Hyatt in New York City, this year's benefit honored award-winning journalist Soledad O'Brien, with whom I have the oddest history. Years ago she mentioned me by my blog name—the Black Snob—in a book once that misconstrued something I actually wrote in defense of her. It was awkward.
It got brought up on CNN's Reliable Sources, of all things. I was mortified. Not mortified enough not to go to the SportsBall and have a great time and get me some Adidas, but several years back, sure! Mortified! When you've been in the blog game as long as I have, you're bound to have irritated someone, at least once or several times, and I used to be pretty brutal with the whole blog thing. Savage, even.

These days, though ... well, I still have the potential to be savage, but I'm more behind the scenes than actively in anyone's face. Much like how I was at the SportsBall: just kind of chilling, grateful that I gave up on wearing heels to galas so that I can actually enjoy all the standing around and noshing while chatting. Sure, a jazzy flat is not as fun as a dramatic heel, but when you have feet as flat as mine, a jazzy flat will do.
NY1 news anchor Cheryl Wills and NBC 4 New York's David Ushery hosted the gala, which also honored Dr. Robert Gore of SUNY Downstate Department of Emergency Medicine; Dr. Mary Bassett, commissioner of the New York City Department of Health and Mental Hygiene; and Kathy Hirata Chin, senior counsel at Cadwalader, Wickersham & Taft.
Naturally Curly Presents The Curl Revolution
The day after the SportsBall, on Oct. 19, I dragged myself away from an after-work goodbye gathering to head to the Lightbox in midtown for Naturally Curly's book-launch party featuring founder Michelle Breyer and her new book, The Curl Revolution: Inspiring Stories and Practical Advice From the NaturallyCurly Community.
There I met writer, podcaster and model Nikia Phoenix, aka "100 Percent Nicole" from those cool 23andMe ads. I was shocked, SHOCKED to learn that Nikia and her friend were longtime fans of ye olde Black Snob, something I haven't worked on in years now, since I started with The Root. I'm always happy and humble to meet anyone who remembers me from my years of struggle, blogging about politics and popular culture for a small but dedicated audience.
The Harlem School of the Arts Masquerade Ball
True fact. If DJ D-Nice is spinning, I want to go there. And so I did on Oct. 23: He was performing at the after-party for the Harlem School of the Arts Masquerade Ball at the Plaza Hotel.
The benefit was for the school—operating out of the Herb Alpert Center—which teaches dance, music, theater, and art and design to children as young as 2 and up to age 18. Many of those who currently work with the school are former students themselves, since the institution has been around since 1964, enriching the lives of economically and ethnically diverse children in New York City.
Many of those students performed and took pictures at the gala, which also honored none other than R&B songstress Mary J. Blige.

Because I'm slowly (but surely) learning how not to burn myself out, I actually went home to rest up and change in between hitting the red carpet and going to the gala's after-party, which was incredibly lit. I went with my friend, the legendary jill-of-all-trades Sophia Chang, who essentially burned a hole in the floor dancing. When not dancing, she chatted up fellow legend MC Lyte, who was also there holding it down near D-Nice while he did the do.
Three things kept me from having a meltdown even though it was so late in the evening:
I was there with a friend and ran into another friend (also a legend: New York City society columnist Audrey Bernard—I felt blessed to be among so many legends), so I didn't have to wander around aimlessly trying to interrupt conversations and get to know a lot of strangers. Which is both good and bad: I literally met no one new at this party because I was so into either dancing with or talking to my friends.

I was wearing a jazzy flat, so my horrible flat feet didn't give me the business.

I drank a lot of Moët. Not enough that it was a problem, but just enough that I was mellow despite LOUD MUSIC and LIGHTS, all of which sometimes give me problems because of my very random sensory/light-noise-sensitivity issues.

I only temporarily blanked out once, and it wasn't noticeable. (I think. I hope. I pray.)
2 Dope Queens Taping for HBO in Brooklyn
Can't say much about this one because HBO will kill me, but 2 Dope Queens podcasters Jessica Williams and Phoebe Robinson (who used to write about hair for The Root) hosted a delightfully kick-ass comedy show at the Kings Theatre Oct. 23-25 in Brooklyn that I can't tell you anything about because it was a taping for a series of specials that will air on HBO next year. I can tell you that it was A) lit, B) existed and C) took place so late at night, I kept falling asleep because I am old.

Also, when the show let out, Lyft was straight up charging $130 to get back to Manhattan, which made me question all of my life choices. Still, it was worth it! I just sat around for 30 minutes outside, including until they turned out the lights at the Kings Theatre, until the price went down.
Wibbitz's Roaring 20s Bash
What's a Wibbitz? I'm going to be honest—I had not a clue. And when I RSVP'd for this shindig, I was totally RSVP'ing to be RSVP'ing and intended not to show up, but FOMO got the best of me, so I threw on a dress and ... you guessed it ... a jazzy flat (one of these days I'm going to shock you and wear a heel so you can read 800 words of bitching about the invention of heels) and went anyway for Wibbitz's Roaring Twenties Bash on Oct. 25 at the Flatiron Room in New York City. Wibbitz, a video-creation platform, was not celebrating just to be celebrating, but was celebrating another 20 other than the 1920s: $20 million in Series C investment funding.

At the Wibbitz party were 101 people in media whom I did not know, which was great because I was forced to engage. They also tossed all of our name tags on a few tables, and it was impossible—for me, at least—to find my name, causing most of us to have some kind of chat about how we could or could not find our name. Great icebreaker.
"Building Academic Excellence in the Bronx and Stamford" Benefit for Excellence Community Schools
When Marvet Britto of the Britto Agency extended an invite to the Excellence Community Schools' benefit gala Oct. 26 at the Mandarin Oriental (of which she was an event co-chair), I took it because it was Marvet Britto.

I came to love and respect Marvet, whom I first met in 2012, when I was head writer of the Prince of West Memphis' (aka T.J. Holmes) old talk show on BET, Don't Sleep. She was representing T.J. and was his staunchest defender and advocate amid the constant changes that plagued our show. We've stayed in touch since I moved back to New York in 2016.
T.J.—whom I used to jokingly stalk on my old blog—is now with ABC News on Good Morning America. I hadn't seen him in person in years—or spoken to him, besides the occasional email here and there, since 2013. So I was happy to see T.J. frickin' Holmes (frickin' because there were children present) at Marvet's table Thursday night.
Also there was my buddy Sophia Chang, who has known Marvet for so long, they were calling each other nicknames; and Love & Hip Hop's Yandy Smith (rocking a white fur stole). I also got to meet MSNBC's Chris Hayes, a Bronx guy who was being honored at the event, and ran into the Rev. Al Sharpton, who was scanning the room looking for someone who was decidedly not me, but I ran up any ol' way to say hey.
Jezebel 10
The same night as the Excellence Community Schools gala was a big party for our fellow Gizmodo Media Group site Jezebel, which was celebrating its 10th anniversary. This is where I saw Zasie Beetz rocking out to the beat; drank a cocktail called "the DivaCup," which was Campari and Champagne; and ate "J"-branded cupcake.
I showed up so late to the party at the Well in Brooklyn—11 p.m.—that it was already winding down when I got there. Food—which was allegedly delicious—was scarce by the time I got there, and I missed meeting Jez's new editor-in-chief, Koa Beck. (But we'll be working out of the same office soon, so I'm sure I'll see her around.)
I meant to mingle at Jez 10 but ended up just talking to my fellow Danielle—my producer at The Root, Danielle Young—and one of my video editors, Ashley Velez, about the upcoming The Root 100 event in New York City. Going to a celebratory work event and so ... many ... galas only reminded me that I had yet to reach the finish line with my own. Would we make it? Would it be grand? Would people have a good time? And who would show up?
I commented that I was sure I was going to go bald this year because much of the burden of making this event pop is on myself and two others, unlike last year, when I had my publisher, Donna Byrd—a seasoned veteran of literally every The Root 100 gala—doing the heavy lifting. The training wheels are off, and now we must throw an epic party that fits our crunk-party reputation.
I hope it's as good as the Harlem School of the Arts gala. They did have D-Nice, after all.