One is a legend in the hair game and the other is steadily making a name for himself creating of-the-moment looks for any number of famous heads, but an exchange of shade between celebrity hair gurus Kim Kimble and Tokyo Stylez this week sparked a lengthy debate about who really gets to call themselves a hairstylist.
It all began when an Instagram commenter insulted Cardi B's adorable pixie cut for the 2018 VMAs. Tokyo, Cardi's go-to stylist, instantly clapped back, suggesting the commenter must be a fan of Cardi's supposed nemesis Nicki Minaj by lobbing an unnecessary and thinly-veiled insult at the lengthy ponytails the latter wore to the ceremony.

Presumably, someone must've screenshot and forwarded the exchange to Minaj's longtime hairstylist Kimble, because she then threw a bit of shade of her own, reposting the evidence to Instagram with the caption:

Instagram doesn't create licensed or professional hairdressers. We all get negative comments sometimes, but why try to drag someone else into it when we can support each other? Sending positive vibes and support to licensed hairstylists.
G/O Media may get a commission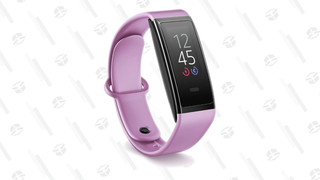 44% Off
Amazon Halo View Fitness Tracker
And boy did that escalate quickly. Throughout the comments of each stylist, fans, colleagues and stans of their respective clients engaged in a sometimes vicious debate about which artist produced better work and if a cosmetology license is the only criteria that entitle one to be called a legitimate hairstylist.
It's worth noting here that Kimble and Stylez have quite a few clients in common, including Minaj, whom Stylez styled in triplicate for her infamous "Minaj á Trois" cover of Paper Magazine, and Beyoncé, whom he transformed into multiple iterations of Lil' Kim for Halloween 2017. How did he do it? He's a master wigmaker—which, notably, doesn't require a cosmetology license in all states, including Washington, D.C., where Stylez is based.
As for Kimble, she's decades into the game, having styled the likes of not only Minaj and Beyoncé, but Halle Berry, Mary J. Blige and many more throughout their careers, as well as designing the fantastical hair looks for 2018's A Wrinkle in Time. She's also a pioneer in the wig-making game and the owner of an eponymous Hollywood, Calif., salon, a line of hair products and another of custom hairpieces. And frankly, with all of her cred, we were surprised Kimble even rose to take the Instagram bait, as were several others, like fellow celebrity stylist Lacy Redway:
Kim, no need to prove yourself. The receipts and the longevity of your lasting career already speaks for you. Like Michelle Obama said... "when they go low, we go high." No one can ever take away from the fact that you have helped to pave the way for a newer generation of artist to be able to express themselves in this industry. You've work over the years has inspired all of us...I mean ALL of us. I could go in deep here on "trends" and "trend setters" and how you have helped pushed the entire lace front movement but I'm going to keep it cute. I for one remember back in the earl 2000's when I first discovered what lace-fronts were and one of the reasons was because of the work you were doing . The receipts are there sis. Give respect to those who have paved the way for you to shine today. That's my #1 issue with this generation of [artists] that are coming up on [Instagram]. Talent doesn't always come with class and we know that. One thing I always try to teach my assistants ... professionalism is what keeps you rebooked and have a lasting career.
As Redway rightly notes, "the receipts are there." But what really made us uncomfortable about this exchange—aside from the fact that either of these ridiculously talented artists felt the need to reduce themselves to shading each other's work—was that in her response to Stylez' pettiness, Kimble, a veteran in the hair industry and icon to black hairstylists everywhere, inadvertently also shaded an entire legacy of self-taught and homegrown stylists and beauty entrepreneurs.
No, we are not dismissing the importance of holding a cosmetology license for those who practice in the field. Licensure exists for a reason, and we are all better protected for it. However, we also know that licenses alone don't equate to great artistry. Furthermore, when considering the history of black hair and beauty, we can't ignore that we come from a long legacy of kitchen and basement beauticians and aestheticians who have often been part of the bedrock of their communities, using their homegrown skills as a first step into entrepreneurship.
In fact, Madam C.J. Walker was a laundress turned door-to-door-saleswoman turned self-taught hairdresser and developer of haircare and skin products—long before licensure was a requirement. And Lisa Price, creator of Carol's Daughter, created her kitchen-based hair and beauty business as a hobby and side hustle while working in television production.
This is to say that while licensure may ensure legitimacy and education is absolutely power, it is not and has never been the sole criteria for a profession with such a rich and storied history in our communities. Since slavery, hair and beauty have been one of few fields in which we have been able to excel on our own terms, and we should be cautious of denigrating that legacy. No, Instafame does not an artist make—but neither does elitism.