Hurricane Florence has preemptively been called "the storm of a lifetime" for the Carolina coast, and officials have wisely taken heed, warning millions of residents to evacuate coasts and low-lying areas as the massive cyclone gets ready to make landfall.

But while South Carolina has ordered a mandatory evacuation for the entire coast, there is one population officials seem content to let be—even though they're in the direct path of the storm: its prison population.
As multiple outlets reported, South Carolina is refusing to evacuate some prisons that lie in mandatory evacuation zones. According to the Weather Channel, that includes MacDougall Correctional Institution, a medium-security prison housing 651 inmates, and Lieber Correctional Institution. Both lie in counties where every other resident and business have been told to evacuate.
It's unclear what criteria the South Carolina Department of Corrections is using to determine which prisons to evacuate and which not to, as other prisons have opted to evacuate their inmates, like the Palmer Pre-Release Center in Florence County, S.C., which lies outside of a mandatory evacuation zone.
As interim communications director Dexter Lee told reporters in a press conference on Monday, as the state prepares for the potentially catastrophic hurricane, "right now, we're not in the process of moving inmates."
G/O Media may get a commission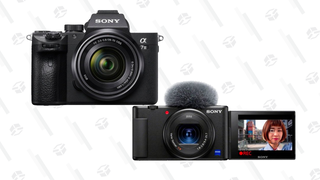 Cyber Monday Deals
Sony Camera Sale
"In the past, it's been safer to leave them there," he said.
For comparison, North Carolina has opted to evacuate hundreds of its prisons and jails in vulnerable areas, according to BuzzFeed climate reporter Zahra Hirji.
Hurricane Florence is forecasted to hit the Carolina coast Thursday through Friday; many fear catastrophic damage from high winds and flooding. Some coastal cities, like Jacksonville and Wilmington, N.C. may see between 30-50 inches of rainfall.
Forecasters also expect Florence to sit over the Carolinas through the weekend, increasing the potential for massive flooding. On Wednesday, the National Weather Service warned the hurricane could be "the storm of a lifetime" for parts of the Carolinas.
Of course, leaving inmates directly in Florence's path exposes them to a variety of risks. According to Vice, during Hurricane Harvey last year, inmates at a federal prison near Houston reported "food shortages, no drinking water, and sewage flooding. Many inmates weathered the storm still locked in their cells."
And as The Weather Channel reports:
There are also potential health risks to the incarcerated individuals, which could ultimately drain additional resources from the state in the long term. Hurricanes, much like other natural disasters and severe weather patterns, can trigger, cause and exacerbate mental health issues, studies show. The prison population is already vulnerable to mental ill-health related issues.
And officials may just be delaying an inevitable decision, anyway—and that delay could very well cause greater risk to the general population.
From Vice:
As Puerto Rico reeled in the devastated aftermath of Hurricane Maria, the U.S. Bureau of Prisons began evacuating inmates from its easternmost facility in Rio Grande due to sustained power outages. During the chaos of the relocation process after the hurricane, 13 inmates escaped.
South Carolina's decision follows a nationwide prison strike in which inmates protested inhumane conditions and forced labor. As Vox notes, these protests were originally spurred by problems in South Carolina prisons.
In April this year, a deadly riot at South Carolina's Lee Correctional Institution drew nationwide attention. In what the Associated Press referred to as the worst prison riot in 25 years, seven inmates died, and at least 17 others were injured.
According to Vox, while state officials blamed the riot on gangs and personal beef among inmates, criminal justice advocates and experts noted that poor prison conditions contributed to the problem, namely, guard understaffing.
According to the Weather Channel, essential staff will be required to stay with the inmates during the storm. Any guards scheduled to work during Hurricane Florence will have to report for work.