A Confederate monument in Arizona dedicated to the first and only president of the Confederate States of America, Jefferson Davis, was recently tarred and feathered.
The Arizona Department of Public Safety on Thursday was called in to investigate the vandalism of the Jefferson Davis Memorial Highway monument, which is located along state Route 80 outside the Apache Junction, the Arizona Republic reports.

In footage of the memorial, you can see it covered in thick, black goop as well as feathers that will probably be difficult to clean off. Whoever this vandal is definitely decided to go big.
"Somebody had to put a little thought into it, but this is going to cost a lot of money to clean up," Mesa, Ariz., resident John Rogers told KSAZ.
It is not the only memorial in Arizona to be recently vandalized, with the memorial to Arizona Confederate troops being spray-painted white overnight. The spray paint, which was not as hard to remedy, has since been removed.
G/O Media may get a commission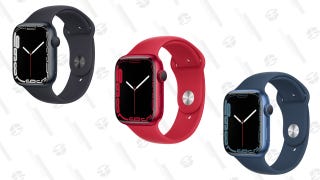 Up To $45 Off
Apple Watch Series 7
Anyway, state. Rep. Reginald Bolding, a Phoenix Democrat who has been in opposition to Confederate monuments and memorials in Arizona, publicly calling for their removal in 2015, has taken a stance against the defacement of the two monuments, saying that such actions are not productive.
"Vandalizing these monuments is not productive," Bolding said in a statement. "This will not lead to the civil discourse and debate that we have been calling for. It is a short-term action that does not help the long-term goal of having these offensive monuments removed from state property."