"I have never felt more bougie in my life," my friend of about 15 years said to me after leaving the Warner Theatre in Washington, D.C., this past weekend. She agreed to come with me to witness Set It Off: Live on Stage, a theatrical adaptation of the 1996 cult-classic film directed by F. Gary Gray that starred Queen Latifah, Jada Pinkett, Vivica A. Fox and Kimberly Elise. My friend is not exactly high-siddity; we bonded as Howard University students over a shared love of catfish, Project Pat and twerking to Beyoncé's B'Day album at club Love (RIP).

Yet she was somewhat perplexed at how much the sold-out crowd practically salivated over the messy spin of the beloved film. I wasn't as surprised, but I will say, as many metal detectors as I've gone through since childhood, it was the first time I had to go through one to see a play. I won't blame that on the play so much as on the reality that in America, you can get shot anywhere at any time. Based on some of the faces my homegirl made at times, though, I wonder if she wished she had been shot so that she could escape what was happening before her.
Let me start off with the things that I enjoyed about Set It Off: Live on Stage. I appreciate the fact that it started at the anointed time of 3:15-ish versus the appointed time, 3 p.m., printed on our tickets. And while I had already consumed some wings with my cherished mumbo sauce, there was some noticeably well-seasoned chicken being served at the venue.
I'm also glad that I hit the vape pen a couple times before experiencing any of this (D.C. has decriminalized marijuana, and I was doing my part to help celebrate this achievement in sound legislation). Lastly, it was recently brought to my attention that the person behind Set It Off: Live on Stage, Je'Caryous Johnson, is a native Houstonian.

OK, I got that out of my system.

Now, in theory, the casting was technically pretty good as far as aesthetics go. Da Brat played Cleo, which makes all the sense in the world. The same goes for LeToya Luckett, who, thanks to her haircut, was the perfect fit for the role of Frankie. Kyla Pratt, whom I haven't heard about in eons, was Stony. Then there was Demetria McKinney, whose time on The Real Housewives of Atlanta was about as long as this sentence, rounding out the cast as T.T.

G/O Media may get a commission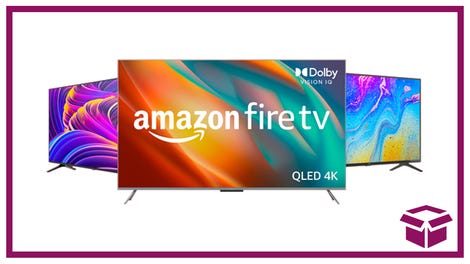 Ooh. stunning.
New Amazon Fire TVs
Not a bad cast for a stage play version of a film that no one really asked for but most of us said, "What the hell, I'll go see this shit." The problem, though, was that not all of them seemed to be acting in the same play. If there were ever a stage play equivalent of a dance battle, consider Set It Off: Live on Stage to sort of be like a battle between Ava DuVernay and Tyler Perry.
In fact, here's a breakdown of the cast in terms of their acting:

LeToya Luckett: Queen Sugar.

Kyla Pratt: Greenleaf.

Demetria McKinney: If Loving You Is Wrong.

Da Brat: Madea Goes to Jail (stage play version, not the film version where Rudy Huxtable had perfect teeth despite being a sex worker on drugs).
I adore LeToya Luckett because her music slaps, she's from the same hood as me (I now regret not yelling, "HIRAM CLARKE HO!" during the play at some point while she was acting), and whether enough folks know it or not, she has consistently booked acting roles on HBO, BET, OWN and so on.
Honestly, I wasn't quite sure why Luckett agreed to do this play. Like, aren't you about to play iconic singer and menthol enthusiast Dionne Warwick in a biopic, Lady Love? But look, we can't be turning down checks in Trump's America 'cause we don't know where this shit is going to go. Luckett tried very hard to be a serious actress on a not-totally-serious production. For that, I love her even more—even if that Emmy nod ain't coming for this.

Kyla Pratt was the same, only I kept waiting for Flex Alexander to tell her she's too young to be dating. That's my bad, not hers. With respect to Demetria McKinney, there was effort, but she needs a few more roles under her belt. That said, she tried to work in the fact that she can sing every chance she got. I hope those Spotify spins have gone up, my good sis.

As for Da Brat, she made a very big deal on Instagram about playing this role but seemed to take it the least seriously. For the most part, Brat served as comedic fodder, but in her defense, that might've been her direction, and the crowd went up for that legendary stud all the same. As a fan of the film, I didn't especially love the more dramatic parts being flipped in this manner. There was also that odd moment when, out of nowhere, Da Brat started rapping her lines and then proceeded to perform her verse from Lil' Kim's "Not Tonight (Ladies Night) Remix."
That was how we went into intermission.

The play relied heavily on the original dialogue, but Je'Caryous Johnson definitely inserted himself as he saw fit. Therein lies one big problem with the play: It needed to decide if it's gonna back dat azz up like it's 1999 or be set in the '90s. There was also the unneeded invocation of Black Lives Matter-esque dialogue. The same goes for some lines delivered by way of the character Keith, who sounded like a cross between an old black man and a deleted scene from Iyanla: Fix My Life.

And while I don't want to spoil the play for future attendees, know that the ending you're used to has changed and it includes ghosts and telepathy.

I went in with minimal expectations and I found myself highly entertained for reasons intentional and totally unintentional. I didn't mind it at all and don't regret going. That includes the fake-ass Bone Thugs-N-Harmony songs and the rendition of En Vogue's "Don't Let Go" that kept being played throughout the first half of the film. Like, it's fine. I knew what I was walking into.
I guess what made my friend feel somewhat bougie is that at the end of the play, the director gave a speech thanking the crowd for its support but proceeding to brand the production "black Broadway." This is the same person who quoted Nelson Mandela in the press release for this play, so that explains a lot. As my friend noted, we already have black Broadway—on Broadway. I think that once you try to make folks who knew a lil' something about theater try to judge it by that metric, you set yourself up for critique.
Like, nigga, this isn't August Wilson. Hell, it's not even Mary Wilson's one-woman show. It is what it is, and just about everyone there seemed elated with what they watched. Just let it be that.
Personally, I'd categorize Set It Off: Live on Stage as good and terrible. Believe it or not, that's a compliment. However, if you cherish the film and would be highly offended that people are laughing at the most dramatic parts or reciting the lines better from the audience than some of the actors, or that the white girl is playing every white-girl role in the production, don't go. You will be mad. But if you want a chuckle and want to see some decent acting in spite of so-so material, with really bad acting in the mix, along with a view of what the original Luther from the film looks like now, go for it.