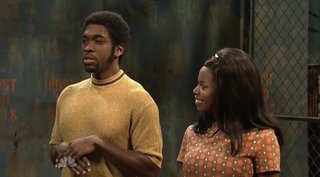 Saturday Night Live spoofed Ben Carson's fanciful claims of a violent childhood in a hilarious sketch called "The Adventures of Young Ben Carson," according to the Daily Beast.
Before kicking off the episode, the show's Cecily Strong paid tribute to victims of the horrific Paris terror attacks. "Paris is the City of Light," she said in English and French during the episode, hosted by Elizabeth Banks. "And here in New York City, we know that light will never go out. Our love and support is with everyone there tonight. We stand with you."
Later, the show's Jay Pharoah tackled Republican presidential front-runner Carson's spectacular claims about a childhood that overflowed with violence in the late 1960s and early 1970s, including an attempt to stab a friend in an attack that was thwarted by a belt buckle.
Belts and buckles represented the theme of the sketch, which used actual lines from Carson's speeches and books, notes the report. The sketch also tackled Carson's claim that he threatened to strike his mother with a hammer after she found him hanging on a street corner.
"Get off these streets and back in the library," she said. "You are going to ruin your future and end up in jail."
"I can't go to prison, Mama," Carson said. "People go into prison straight and come out gay."
Carson, who has been hammered in the media in real life over a portrait of him with Jesus at his home, was visited in the sketch by black Jesus, played by Kenan Thompson, who vowed to be Carson's only friend.
Watch the video here.
Read more at the Daily Beast.