Justine Skye knows she's a bit of a mystery. In fact, the 24-year-old singer has at times been better known for her influencer status and famous friends like Kendall and Kylie Jenner than her music, despite inking her first record deal at 19. Then came her late-2018 single, "Build," the video to which both continued a much-needed conversation about domestic violence and displayed a vulnerable side of the enigmatic singer, as she bravely revealed herself to also be a survivor of abuse.
But while Skye may be well known within Hollywood circles, her 17-piece Justine Skye x H&M collection, which hits stores Friday, Nov. 22, has its roots on the East Coast: it's an homage to the singer's New York hometown.
"This collection was inspired by me being from Brooklyn," she explains to The Glow Up. "I just wanted to incorporate just a little bit more about who I am because I feel like I really haven't shown that much and so I just wanted to let people know where I'm from and how that inspired my style...I just wanted to do something for my hometown, and H&M has been such a great partner [in] allowing me to be creative and just get my vision out."
Skye's Jamaican heritage also heavily influenced the collection, a tightly-edited selection of athleisure separates and accessories in playful prints with personal touches—like Skye's birth year, 1995, which is another motif in the line.
G/O Media may get a commission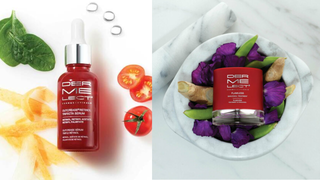 Save $19
Retinol Renewal Kit
"I have Jamaican roots, and we love patterns—allover patterns—and a matching outfit, so I incorporated that aspect into the collection," she laughs, pointing out the allover plaid pieces and coordinated cloud-print separates that are a play on her name."For me, I like to be comfortable and cute...this collection is for anyone who wants to be cute and comfortable at the same time—and I think that's what most women want...Overall, I'm just really excited about this collection, and I can't wait to see people in it—seeing how they wear it."
Skye worked on the collaboration with H&M for a year for a half, a period she now considers personally transformative as she began to reframe her approach to music and her place in an unapologetically image-conscious industry: "not reinventing myself, but being the me that I always was, but was afraid to show," she now says.
"I definitely think I've been underestimated...but I wouldn't blame anyone else for that, because I also feel like I've been sheltering [myself]; like, living in a shell of my own," she further explains. "I've just been confused on how to be myself—when in fact, that was the whole reason why I got here to begin with. And I feel like as time progressed and I got into the industry and went from label to label, I kind of lost who I was and started just trying to be just anything to get where I wanted to be. And that wasn't really me, and everyone else could see that as well, because it was just generic, you know what I'm saying?

"I guess 'Build' was the start of me letting that go, and realizing that the whole point of being an artist is that you really don't have anything to lose," Skye continues. "You and your story, your thoughts, that's what makes you different from everyone else. That's what makes you stick out, and that's what makes people connect to you, not just being able to sing. There are so many amazing artists who are able to sing, but can't really connect with anyone because they're not able to, like, get in touch with that part of themselves."
For Skye, getting in touch with herself meant putting the superficialities of the entertainment industry into perspective. It's a crossroads many artists come to, but for Skye, who initially found fame on social media but also laments how it has affected her generation in particular, becoming the kind of artist she wants to be required releasing much of the artifice.
"Over the last year and a half, I've just done a lot of self-realization—sometimes, you just feel like you have to do so much when really, you just need to be yourself," she says. "So that's really what I've been practicing, really just not being afraid—saying what's on my mind, sticking up for myself, saying 'no' to things, not just doing something because everyone else believes it's the right thing for me to do. And yeah, it's crazy; a lot has changed in the past year, but for the better. I really feel like I'm in the best place I've ever been as an artist, and it just keeps getting better. I'm making the music I want to make, and in a way that feels natural to me; not like a science project."
Letting go of the superwoman complex that plagues so many of us was another major step in Skye's artistic development, a realization many of us don't come to until well after we've already burned ourselves out.
"I realized that when you just sit there and stress yourself out, you're not doing the best work that you can do, and for me, the best work is the most authentic," says Skye, with wisdom seemingly well beyond her years. "I'm not saying I have all the answers in the world—I'm only 24, a 24-year-old girl from Brooklyn—this is just my story and how it works for me. I think that in life, you have to listen to as many stories as you can and get inspiration from as many places, people and things as you can to see what works for you. That's what life is all about."

For now, life for Justine Skye is about doing the work she loves as authentically as possible—and with a distinctly positive message to share.

"I would just like people to know that they should never feel discouraged, even though we're living in a climate where it's so easy to just want to give up—but that should just motivate you even more," she says.
The Justine Skye x H&M collection is online and in select stores now; you can preview the collection below.