After previously announcing that it would not do so, the Six Flags theme park Six Flags Over Texas has removed the Confederate flag from its marquee and is replacing all six flags currently waving over the entrances with American flags.
The San Antonio Current reports that in a press statement released Friday, Six Flags spokeswoman Sharon Parker said, "We always choose to focus on celebrating the things that unite us versus those that divide us. As such, we have changed the flag displays in our parks to feature American flags."
After the events in Charlottesville, Va., last week, the company was asked if it was going to keep the Confederate flag waving, and Parker said that nothing would be changing because the version of the Confederate flag that Six Flags Over Texas had was the original Stars and Bars version, not the "Blood-Stained Banner" version that has become synonymous with racism and white supremacy.
"Six Flags Over Texas continues to fly the Confederate States of America Flag and does not fly or sell any variation of the Confederate Battle Flag," Parker said Thursday, giving the same excuse the park gave when asked why it would not be taking down the flag after the 2015 shooting massacre at Emanuel African Methodist Episcopal Church in Charleston, S.C.
The name "Six Flags" refers to the flags of the six different nations that governed Texas throughout history: Spain, France, Mexico, the Republic of Texas, the United States of America and the Confederate States of America. The original six themed areas of the park were based on those countries, too.
G/O Media may get a commission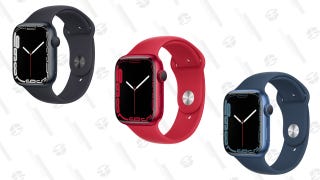 Up To $45 Off
Apple Watch Series 7
Regardless of how the company attempted to defend the continued waving of that flag, we are glad it's down for now.
Read more at the San Antonio Current.