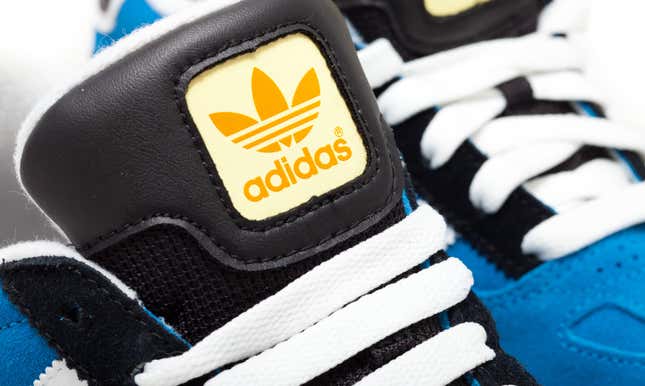 Prior to inking her highly touted new deal with Adidas, Beyoncé reportedly walked out of a meeting with competitor Reebok due to a lack of diversity on its pitch team. But as an investigative report by the New York Times revealed on Wednesday, Adidas seemingly has some major diversity issues of its own, as alleged by 20 current or former black employees who have worked on the Portland, Ore., campus known as "Adidas Village."
American Ninja Warrior: Season 15 Is Our TV Pick of The Week
Despite only comprising 4.5 percent of Adidas' 1,700-member workforce in Portland—less than 75 members, the Times notes—several of the black employees anonymously interviewed claimed they'd been discouraged by their predominantly white leadership from forming even informal communities with their black colleagues—even against fraternizing during their lunch hour.
"Adidas employees who spoke to The Times said that in the company cafeteria, black employees often sit together. Some said they had been told that this made some of their white colleagues nervous and could hurt their chances of getting promotions or being put on important marketing campaigns if it appeared that they were not trying to fit the Adidas mold."
Additionally, The Times noted that two black employees at Adidas Village had been on the receiving end of "a common racist slur" by their white counterparts, dismissed as "a joke" in both instances. But it's no laughing matter to consider how dynamics like the above play out for the 55 percent people of color who comprise the company's U.S. workforce—a number that includes its retail workers (no specific breakdown was given for black employees). Notably, as of last year, only three of the company's approximately 340 worldwide vice presidents were black—and one has since left. And for the black employees who actually occupy those coveted seats at the corporate table, several report a seeming preference they be seen, rather than heard.
Several current and former Adidas employees said they were frequently the only black person in meetings and often felt their input was not valued when decisions were being made. And an overall lack of racial diversity, they said, meant it was not uncommon for negative stereotypes to creep into work discussions or marketing pitches involving black athletes, sometimes creating backlash outside the company. Even when such ideas were scuttled before becoming part of official advertising campaigns, black employees said, the conversations left them feeling uncomfortable.
Indeed, it is an uncomfortable conversation; one that continually threatens to undermine race relations both within and outside of the athletic-wear giant. The Times catalogs a series of missteps, including the all-white sneakers Adidas released—and quickly recalled—for Black History Month 2019, and the boycott sparked by its "shackle" sneakers in 2012. And then, there's this gem of an abandoned marketing strategy:
In 2016, there was a meeting about the company's latest sneaker for [James] Harden, the Houston Rockets star. One idea was to make the shoe part of the company's "Uncaged: line. The ads for "Harden Uncaged," the thinking went, could feature Mr. Harden breaking free from a prison cell.
Ummm...no. Not a jail, not a zoo, not a shackle, and not a damned cage, thankyouverymuch.

Global head of human resources for Adidas Karen Parkin admits the company's racial dynamics are "not where we need to be in all of the locations around the world," but insists it's a conversation the company is "not afraid to have." Blaming the alleged victims for not reporting to HR, Parkin claims to have had no knowledge of the aforementioned racial incidents on the Portland campus, stating a "zero tolerance" policy when it comes to such behavior.
But what of the cultural acceptance and overall "downness" deals with stars like Beyoncé, Kanye West, Pharrell Williams and any number of sports figures and other entertainers automatically grant Adidas in the eyes of their black fanbases? As The Times points out, it's an implicit endorsement the brand has enjoyed since Run-D.M.C. gave it a lyrical shoutout in 1986, yet with little to no tangible returns for the customer base it attracts.
"Companies spend billions of dollars on marketing and advertising to attract African-American kids to their products, but they don't do much to support the African-Americans on the inside," shoe designer D'Wayne Edwards, a former Air Jordan designer at Nike who now runs Pensole Footwear Design Academy in Portland, told The Times.
For comparison's sake: In 2017, Nike reported that 23 percent of its U.S. employees, including retail workers, were black, as were 29 of its 353 vice presidents (approximately 8 percent, versus one percent at Adidas). While Nike's numbers are undoubtedly better, they still represent a grim disparity between the leadership at top athletic brands and the demographics of those who flock to buy their products.
"What is frustrating is that none of us are empowered to change it," said Edwards. "Some companies have said for years that they want to create a diverse workplace, but if anything, the numbers are getting worse. And they don't care. It's a lot of lip service."
Perhaps the most damning confirmation of Edwards' words is The Times' recounting of a series of diversity conversations gone wrong in 2018, in large part due to the actions—or inaction of Zion Armstrong, current president of Adidas North America. After reportedly admitting that the company "needed to intensify its diversity efforts" last spring, a subsequent letter from anonymous minority employees (h/t Footwear News), asked him to be accountable. Sources told The Times Armstrong later walked back his admission when meeting with Adidas' predominantly minority-employee group Progressive Soles, reportedly telling the group "Adidas did not have a race problem," but rather reflected the demographics of its home city. (Note: Nike is headquartered in the nearby suburb of Beaverton.)
Ahh, yes…Portland, the so-called progressive bastion that forbade black people from entering its borders when it was ratified by the union in 1859 (h/t the Atlantic), and still experiences such persistent issues of anti-blackness, it successfully warranted the founding of a "reparations happy hour" last year. (Shouldn't be too costly, since the black population of Portland is currently only 6 percent.)
In that case, I guess Armstrong is correct—and maybe an Adidas reparations happy hour could help lubricate some much-needed conversations and organizational change. But as The Times reports, that's not likely to happen anytime soon. When asked by Progressive Soles why there were few promotional opportunities for black employees—including a lack of offers extended to talent the group fed into Adidas' internship program, "Mr. Armstrong said there simply were not any who were ready."