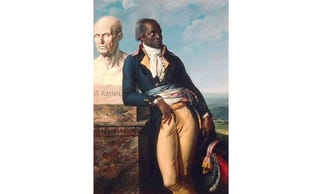 Starting this Friday, the New-York Historical Society is featuring "Revolution! The Atlantic World Reborn," a traveling exhibition featuring various cultural and historical artifacts from the diverse and multifaceted revolutions of the United States, France and Haiti. For the first time, the sovereign revolutions of these nations are melded together, telling an international narrative of dynamic struggles toward sovereignty and independence.
The exhibit connects the dots between the fight against slavery and that against tyranny of historical monarchs, using the example of Haiti, founded after the successful revolution of slaves on the island of Saint Domingue. "Revolution! The Atlantic World Reborn" will be exhibited at various venues yet to be announced and ends April 15, 2012. Saturday Nov. 12 is a special "Haiti Day" at the Society, with members of New York's large Haitian community expected to attend and see the first public exhibit of a recently discovered copy of Haiti's 1804 declaration of independence from France.
For more information, visit the New-York Historical Society's website.
Previous recommendation: Drake Back With Sophomore Album.

Got ideas for The Root Recommends? Send them to recommendations@theroot.com.