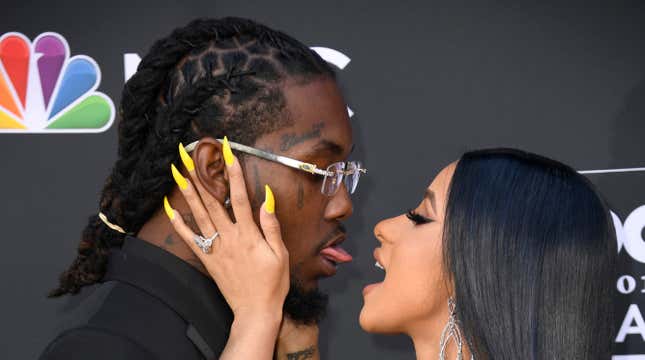 Curiosity killed the cat, but social media killed the mystery.
Yes, the 2019 Billboard Music Awards (BBMAs) occurred and the music industry made it rain statuettes on triumphant artists, but one particular trophy had most people talking. That trophy was Cardi B's—from her private collection.

Tackling A Black Maternal Health Crisis & Embracing Reproductive Justice | The Root Institute
But first, a bit of an appetizer before we get to the main course.
Like most summa cum laude graduates of Thee Bad Bitch University (TBBU), Cardi decided to cite her sources in regards to her bad bitchery stating, "Broke bitches watch out now / Your pussy basura / My pussy horchata."
This dissertation was immortalized in her "Please Me" music video with Bruno Mars.
Fans of the cinnamon sweet and nutty rice milk drink known as horchata (i.e. me) immediately recognized the melodic metaphor as Cardi's way of confirming just how delicious her poon tastes. Beaver too bomb, so to speak.
Got it? Great.

But the metaphor came to life when Cardi B and her husband, Offset (of the House of Migos) hammed it up on the BBMAs red carpet. Seriously. They were displaying full-on foreplay, much to the delight of the eager photographers.
They basically reenacted the pose from Offset's "Clout" music video and revealed—well—the director's cut:
Thus began the political pussy incident known as #BardiBoxGate (as dubbed by staff writer Jay Connor).
However, as social media ogled her undercarriage, Cardi B took to Instagram to clear things up. In the true spirit of social media, the post is now deleted on her page, but the "footages" are forever.
"First of all that ain't my pussy, my pussy right here, this where I birthed my daughter from," Cardi exclaimed, accusing people of photoshopping the initial pic while claiming the revealing part was simply her ass.
Some observations:
1. Peep the Easter Egg— Offset briefly walks across the screen at the 0:30 mark.
2. It's true, part of Cardi B's likability is due to her authenticity. As she has shown from the very beginning of her social media shenanigans, she is willing to post exactly what she feels when she feels like it. I—and a large chunk of her fans and other folks who enjoy her—just wish she didn't care quite so much. I will never understand how you can be in Beyoncé's presence for an extended amount of time and not absorb this tutelage.
3. Hey, it's her body-oddy-oddy. Carry on.
So, about that horchata (the actual drink) ...
Update: 5/2/2019, 2:15 p.m. ET:
Soon after the social media melee, Cardi B took to Instagram to address her actions and thank her supporters. "I know I'm one crazy bitch and I express my self too much. I be having ya like 'here this bitch go again', but hey! stick with me, I mean no harm," she wrote in the caption.
Shout-out to self-reflection.