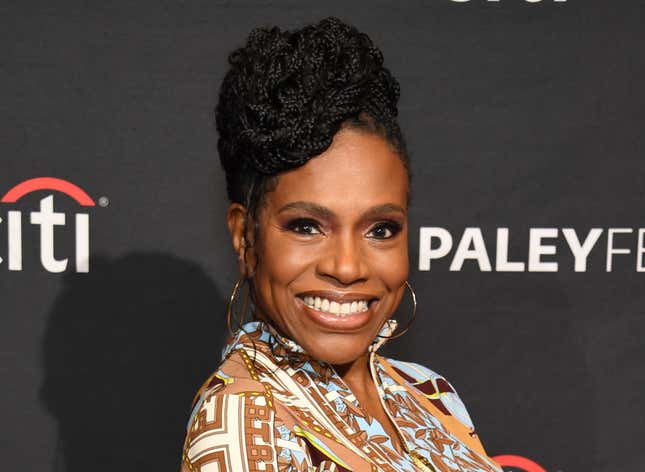 Abbott Elementary star Sheryl Lee Ralph has done everything there is to do in the entertainment industry. Theater, films, TV, music, books she's conquered them all. In the latest episode of TV One's Uncensored, the Emmy-winner will take a trip through her legendary career, recounting the stories that shaped her and helped her grow as a performer. Ralph spoke with The Root about telling her story and how one of her first big roles taught her a valuable lesson about the business.

The Black National Anthem Reached Its Pinnacle Via Sheryl Lee Ralph
She recorded Uncensored right after her memorable Emmy win. But even though she was exhausted, she knew this was the moment she had to put her story out in the world.
"There's something about when you strike that match, you gotta light that candle, because if that flame goes out today, nothing's gonna be hot," Ralph told The Root. "Then that moment when I realized it, I said, 'Wow, look at that, you're still pushing through to tell your own story. Even at a time when you are not at your best. That's all part of it. That's all part of moving forward. It's all part of this thing called show business. And it is not for the faint of heart."
The Dreamgirls star wants audiences to know who the real Sheryl Lee Ralph is. She's been in our lives for so long, we probably think we know her, but do we? We know the person we see on-screen. And for some fans, as unlikely as it seems, they've just now discovered her through Abbott Elementary.
"Sometimes you have to tell people the absolute truth or else they get this fancy, fantasized version of who they think people are," she said. "I think in doing Uncensored, I wanted people to know I don't look like my journey. Believe it or not, it took me 40 years to become an overnight sensation. It took 40 years of me speaking and living in my truth as a full human being, that I just realized my mic had been muted. And it's just unmuted now people can actually hear what it is I have been saying. It's just making such a great difference in so many ways that I'm fascinated by it all. You're going to hear about some of the bumps in the road and what it takes to get here and how I have managed to overcome through my storms and live my life."
As a longtime fan of Ralph's, I had to know the story behind a show that launched her career into the mainstream. Back in the '80s she was on the comedy It's a Living. It followed the waitresses at a fancy restaurant in downtown Los Angeles. When series star Ann Jillian left the show, Sheryl was brought in to take her place. However, the story of her role on that syndicated series has a much deeper meaning than just an actress getting another part.
"For whatever reason, [executive producer] Tony Thomas wanted to integrate that cast and when he chose to replace Ann Jillian, a blonde white woman, with a Black girl, that was quite a big deal," she said. "I'll never forget when I did my screen test, he came up to me and he said 'I want you to win. I want you to get this. Don't change anything about yourself. Just be you.' To this day, I always tell young artists, somebody's got to want you to win. Somebody's got to be there for you, to push you forward in this industry because it is very difficult. It can be very unforgiving. But to have somebody that says 'OK, I want you to win. Whoa. That's amazing.'"
What an important, underrated lesson to learn at the start of your career. When you're a Black creative you can't always rely on hard work and talent to get you to the next level, you need other people who are willing to go out on a limb for you. Like a true diva, Ralph is still learning lessons about how to be the better performer.
"In getting Abbott Elementary, I was shocked that I had to apply my acting differently than I have had to do in other shows. It's a mockumentary so you're playing straight without the cameras, but then you're also acknowledging something else to the cameras with cameras that are all around you," she said. "That was a different way of acting and I had to really lean into that. It was a lesson that I'm so happy that I was able to continue to grow, change and learn as an actor. Sharpen your craft, so that you can apply it to something new. I'm glad I was sharp enough to be able to apply it to Abbott Elementary."
Uncensored with Sheryl Lee Ralph premieres Sunday, April 16 at 10 p.m. on TV One. Her new book DIVA: 2.0: 12 Life Lessons from Me For You! is available now. And Abbott Elementary airs Wednesdays at 9 p.m. on ABC.