After a media outlet reported on plagiarism in his master's degree thesis paper, Sheriff David Clarke is unsure of his standing with the Trump administration and whether or not he will actually get that job with the Department of Homeland Security that he's been bragging about recently.
On Saturday, CNN reported that there were 47 instances of direct quotes without quotation marks in Clarke's 2013 thesis. According to Talking Points Memo, Clarke believes that the report is an attempt to intimidate him and undermine the Trump administration's confidence in him.
He called CNN's reporting "a political smear" and said, "They're saying certain words and phrases I should have put quotation marks around. OK, all right, fine," during an appearance on The Sid and Bernie Show on Tuesday morning, according to TPM.
"This is designed to intimidate me," Clarke said. "It's designed to try and weaken the confidence that President [Donald] Trump has in me, that Secretary [John] Kelly has in me."
TPM notes that in a separate interview with radio host Joe Pags, Clarke said, "I'm in a political environment; sometimes political decisions are made."
G/O Media may get a commission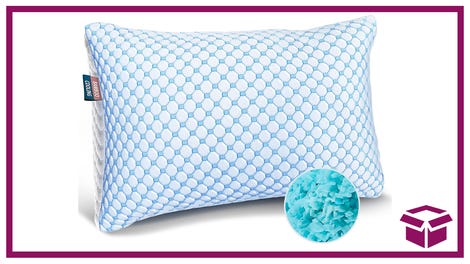 23% off
Nestl Cooling Pillow - Queen Size
"President Trump has to do what's in the best interest of his administration," Clarke continued. "And they've cut people loose before; I don't know why. So time will tell."
From TPM:
Clarke would be an alarming choice to work in the Department of Homeland Security's Office of Partnerships and Engagement, which coordinates federal outreach with local stakeholders.

Clarke claimed on May 17 that he had been offered a job at DHS, but the department posted on its Twitter account the same day that "Sr. positions are announced when made official by the Sec. No such announcement w/ regard to the Office of Public Engagement has been made."

DHS officials have not responded on multiple occasions to TPM's questions about any possible job offers extended to Clarke.

It's worth noting that CNN reports in all the instances they documented, while Clarke lifts language from sources and credits them with a footnote, he neglects to put quotation marks around the words he uses verbatim.
From CNN:
According to guidelines on plagiarism posted on the Naval Postgraduate School's website, "If a passage is quoted verbatim, it must be set off with quotation marks (or, if it is a longer passage, presented as indented text), and followed by a properly formulated citation. The length of the phrase does not matter. If someone else's words are sufficiently significant to be worth quoting, then accurate quotation followed by a correct citation is essential, even if only a few words are involved."
Additionally, CNN contacted the Naval Postgraduate School about the reported plagiarism, and a spokesperson told the news network that standard procedure when an allegation of plagiarism is made is to launch an investigation into the thesis. Oops.
What in tarnation was Clarke thinking? He told the Milwaukee Journal Sentinel, "Only someone with a political agenda would say this is plagiarism."
Or people who understand what plagiarism is, Sheriff Clarke.
Hopefully this gets this cartoon character up out of here once and for all.