Sheila Bridges is the founder and CEO of one of the most prominent interior design firms in the United States. Named "America's Best Interior Designer" by both Time magazine and CNN, she is perhaps best known for having designed the Harlem offices of former President Bill Clinton and his staff.
Her signature style combines a firm grounding in the traditional with her wide-ranging taste for contemporary art and design — an enticing mix that has attracted high-profile clients ranging from Sean Combs and author Tom Clancy to Princeton and Columbia universities.
Born and raised in Philadelphia, Bridges graduated from Brown University before completing a postgraduate degree in interior design at Parsons School of Design. She also studied decorative arts in Florence, Italy, and to this day cites overseas travel as one of the biggest influences on her work.
She founded Sheila Bridges Design, Inc. in 1993, and in 2007 she launched her own line of home furnishings with Sheila Bridges Home, Inc. She is also an author, having released Furnishing Forward: A Practical Guide to Furnishing for a Lifetime in 2001, which was one of Amazon's top 20 decorating books for nearly a decade.
In addition to her design work, Bridges is widely known for her work in television. A frequent contributor to the Today show, she has been a featured guest on The Oprah Winfrey Show and The Nate Berkus Show and has been profiled by ABC News. She also hosted four seasons of the series Sheila Bridges: Designer Living on the Fine Living Network. Bridges has been profiled in countless national and international publications, including virtually every major design magazine as well as Black Enterprise, Essence, Vanity Fair, In Style and the New York Times.
G/O Media may get a commission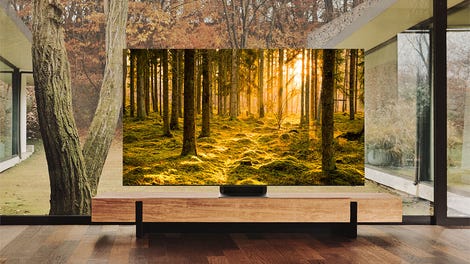 Up to 40% off
Samsung Smart TVs
The Harlem-based designer spoke with Holly McWhorter for The Root.
The Root: Did you always know you wanted to go into design?  
Sheila Bridges: No, I had no idea. I studied abroad my junior year in Rome, and I think that's the first thing that really opened up my mind to the possibility of being a designer. In Italy I was really struck by the way the decorative arts are considered professions of real value — unlike here, where typical status professions like medicine and law are much more encouraged. And I flourished there — there were so many things I found inspiring.
TR: You also have your own line of home furnishings. What inspired you to expand into that alongside interior design?
SB: Because I do high-end residential work, I've always designed custom furniture and furnishings for clients. If someone wants to buy a sofa, we usually design it and have it made so I can be sure of its quality. But custom-made furniture is pretty expensive, and I wanted to create things that people who might not be able to afford my interior design services can have access to, so I've put my own spin on a few items that are more affordable.
TR: Do you feel that being black has or has ever had an impact, either positive or negative, on your career as a designer?
SB: I'll just say this: Design has always been a pretty elitist profession, so there have definitely been a lot of challenges along the way, and many of them have had to do with being black. Even at this point in my career, a couple weeks ago I walked into an antiques store — a new one, where they didn't know me — and asked the price of a pair of Louis XVI chairs, and the woman just said, "They're very expensive." Period.
Design is now democratized in a much bigger way than it used to be — the Internet and design TV have given everyone the ability to at least see good design. But that doesn't change the complexion of the industry from the business side, and that continues to be a challenge, particularly when you're black.
I'm contacted by a lot of young black designers who are just starting out and are finding it very difficult to penetrate the design world. I tell everybody that it's hard but I think being black helps prepare you, because we have to deal with these kinds of obstacles — obviously — in other areas of our lives. Or at least I do.
TR: We spoke with another black designer of high-end interiors who declined to answer that question at all and didn't give a reason why.
SB: Well, I'm pretty outspoken. I'm not afraid to say that being black does present some challenges when [you're] working in this industry, because it's true. All you have to do is flip open the pages of any big design magazine or turn on HGTV to see that we're underrepresented in the profession.
TR: Why do you think that is? 
SB: My take on it is that historically, we have chosen professions that tend to be "safer" than design. For black people, medicine and law and working in the corporate sector — especially because those doors were closed to us for so long — have generally been seen as more acceptable career choices.
And we don't have a long history of being professional designers — mainly because we only just recently gained the luxury of choosing it as a career — so there haven't been many people on the inside of the industry who could help open the doors and pull us through.
TR: Do you think there's anything we can or should do to make more black kids aware of design as a potential career choice?
SB: I think placing an emphasis on art in schools is important, and encouraging young people to be creative, which I think people do a lot more now than when I was growing up. Back then we were discouraged from going into creative professions, but obviously the more of us who are out there and visible, the better. If you're 12 years old and see someone who looks like you doing what you want to do, it makes you feel like maybe you can do it, too.
TR: Do you feel that there is such a thing as a "black" design aesthetic?
SB: My answer to that is a resounding "no." Design is colorblind.
TR: I understand that you have alopecia, and you choose not to wear a wig or a weave. Being a black woman, given the large amount of attention the black community historically places on women's hair, have you had any notable experiences in your design career related to that choice?
SB: I'd say it's affected my personal life much more than [it has] my career, because I was already an established designer when I got alopecia. But I work in a profession that is all about aesthetics, and I think that within the African-American community, I lost some of my aesthetic currency — in terms of the way that we as a community define that — when I made the decision to shave my head.
Sure, it would have been much easier for me to slap a wig on or get a weave, but anyone who knows me knows that's not consistent with my lifestyle and who I am. I felt comfortable taking the risk of working in a profession that didn't have its arms open for me to be in it in the first place, so for me to go out in that world wearing a weave or a wig, which everybody says would make my life much easier … that's just not how I'm wired.
I get as many emails about my alopecia as I get questions about design, which I always find interesting because I've only had alopecia for six years, and I was designing for 14 years before that. And I realize that my choice to be very public about it, and the fact that I choose to shave my head, has impacted people's lives as well as my design work, which is a good thing. But I'd rather people read about me and be inspired by my design than by my personal style choices surrounding a health condition.
TR: Do you have any advice for aspiring designers who might be reading this interview? 
SB: Stay the course. If you love design, don't let yourself get discouraged — just continue to follow your dream. Because no matter what profession you choose, there will always be challenges, but if you're really passionate about the work, you'll move past them.
And I think it's important for people to understand that this profession is not necessarily what it appears to be. It tends to be a little misrepresented in magazines that make it look very glamorous, but it's actually a lot of very hard work.
And I'd advise them to cultivate relationships within the design community. For example, when I was 24 and an assistant designer just starting out, I connected with a 24-year-old assistant editor at a design magazine — and over the years we've climbed the ranks at the same time. Now she's editor-in-chief at a major design magazine, and I have a business, and we still have that connection.
At the end of the day, I just think it's important for people to find something that they love to do. And if they're lucky, they can get paid for it — and hopefully get paid well. Since most of us spend the majority of our days working, I think it's a good idea to find work you really love. And I've been fortunate enough to do just that.
You can find more information about Sheila Bridges and examples of her work at her website.
Holly McWhorter is a writer and designer living in Brooklyn, N.Y.