Chances are, if you live outside the United Kingdom or aren't a musical-theater buff, you haven't heard of Sheila Atim yet. But the 26-year-old actress, singer and composer is making a major splash across the pond: On Sunday night she garnered the honor of Best Actress in a Supporting Role in a Musical at the Olivier Awards, the English equivalent of the Tonys.
Amazingly, the Ugandan-born Atim has only been a full-time actress for the past four years; she initially earned a degree in biomedical science at King's College London, with plans to become a doctor. As she told British daily newspaper The Times, "Obviously, coming here [from Uganda] the 'better life' narrative tends towards doctor, lawyer, you know."
But in her spare time, Atim studied singing and drama at not-for-profit performance arts school Wac Arts College, which also boasts alums Michaela Coel, Daniel Kaluuya, and Oscar and Golden Globe nominee Marianne Jean-Baptiste. There, Atim was mentored by playwright Ché Walker, who eventually cast Atim's stage debut in his play The Lightning Child, which premiered at Shakespeare's Globe Theatre. She credits her arts education as a life-changing experience, telling British Vogue:
It's absolutely vital, it's the same as sport. I think doing the arts makes better adults. It's not fair if only certain children can access that. Even just giving them the chance to see a show. ... Those few experiences really changed the way I saw things.
Those experiences also prepared Atim for an increasingly powerful presence on stage: Last year, she starred as refugee chef Babette in the musical adaptation of Babette's Feast before taking on her award-winning role as Marianne in Girl From the North Country, a staged interpretation of Bob Dylan's songbook. Having emigrated from Uganda to Essex, England, with her mother at only 5 months old, Atim identified with the adopted and rural Depression-era Minnesotan character Marianne, telling The Times:
As far as I could tell, in my immediate vicinity—the distance between my house and school—I was one of the only black people in Essex. And we are a long, long way from Minnesota and the 1930s. But you feel that isolation and you do experience racism. And even when you don't, you're aware that you're different—you have to use different hair products, you have to use different skin creams, it's just difference. Now apply that to a scenario in which racial tensions are so very high—there must be a constant sense of anxiety, and deep loneliness as well.
G/O Media may get a commission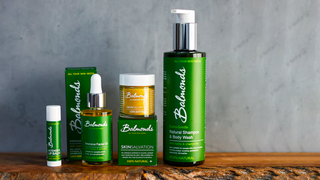 50% off
Balmonds - 50% Off Sitewide - November 25 - November 28
At last night's awards ceremony, Atim gave an achingly beautiful performance of Dylan's "Tight Connection to My Heart," purportedly bringing the audience both to tears and to its feet, and likely making her subsequent win no surprise.
Wearing a brilliant red Antonio Berardi gown, the willowy 5-foot-10 1/2-inch Atim, who unsurprisingly is also a former model, would have looked just as at home on the catwalk as ascending the stage at Royal Albert Hall to accept her award. Speaking to Vogue, she was remarkably humble about the role that might very well catapult her to international fame:
It's a role that has generated a lot of attention and the song has generated a lot of attention, and it's all good attention which is lovely. The nature of theatre is that it's on and then it's gone. And so I move on to something else and I will become someone else and that's going to be another chapter. It's all about looking forward and enjoying things when they happen, but also not getting too caught up in the moment.
Continuing to have the ability to transform and evolve through her characters and music is something Atim doesn't take for granted—an album may even be on deck, according to the Times. While incredibly talented, she is also fully aware that at least for the time being, she is still a striking anomaly in her chosen field (a strikingly beautiful one, in our estimation). As she said to Vogue:
There's always a role that comes in and takes me off guard, which actually as a black woman can be very rare because you can be put into a box, as can many different groups of people. ... And that really drew me to the writers and directors I've worked with, because they're the ones who had the vision to write a part for someone like me or cast someone like me, and we need more people like that. I don't want to second guess anything, but I'm hoping that more roles keep coming in and surprising me.