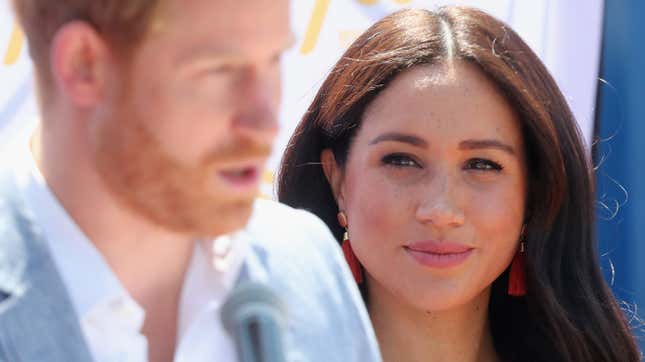 Hillary Clinton is the latest public figure to throw her support behind Meghan, Duchess of Sussex, in the midst of the Sussexes' legal battle against British tabloid the Mail on Sunday.
"I do want to say that the way she's been treated is inexplicable," the former secretary of state—a self-proclaimed "huge Meghan Markle fan"—told UK newspaper the Times (h/t the Daily Beast), during a joint interview with daughter Chelsea promoting their new bestseller, The Book of Gutsy Women: Favorite Stories of Courage and Resilience.
While Clinton acknowledged that British media laws are very different than the United States', she didn't shy away from the idea that racism might be at play when it comes to the treatment of the Duchess of Sussex.
"I think if the explanation is that she's biracial, then shame on everybody," she said, pointedly adding, "It's certainly part of it."
Chelsea Clinton shied away from specifically indicting racism as the issue, saying, "I think...it's because she proudly had a career first and has a voice that she thankfully continues to use. Anyone who has the temerity to break the mold of what has previously been established and expected often, unfortunately, receives criticism and bile that I don't understand. We've seen this pattern repeatedly.
"I don't know her, but as someone who respects her, I'm so grateful that she persists, and is unbowed, and is doing work she feels called to do. And also isn't willing to be bullied," she added.
Certainly, "gutsy women" like Harriet Tubman, Shirley Chisholm, Dorothy Height, Venus and Serena Williams, Chimamanda Ngozi Adichie, and Kenyan political activist Wangari Maathai—all of whom are profiled in the Clintons' book, know a thing or two about remaining "unbowed" amid criticism and bullying. No doubt they also know how much more vicious that abuse is at the intersection of sexism and racism.
As the Daily Beast noted, British Vogue editor-in-chief Edward Enninful also pointed out the specifically racialized abuse of Meghan after critics learned she had secretly guest-edited the magazine's September issue, ironically titled "Forces for Change."
As the Guardian noted while interviewing Enninful in September:
The double standard at work was hard to ignore. While Enninful and Markle's collaboration prompted sneers, Prince Charles's two-time guest editorship of Country Life magazine, and stints by Prince Harry at Radio 4's Today programme and Kate Middleton at Huffington Post, had been quietly praised at the time. Many of the criticisms aimed at Markle—she was branded "uppity" for assuming the role, and accused of being "anti-white" for focusing on diversity—are familiar tropes aimed at people of colour who enter white spaces and fail to seek white approval, or who celebrate their heritage and diversity.
"Was the criticism racist? Some of it, yeah," Enninful said at the time. "Actually it was more than racism," he added. "I thought it was personal—attacking someone you don't know, attacking her."